This post was updated on October 21, 2022.
Maybe you're in school and you've just realized how few days you have left to summer. Maybe you've been thinking Thank God it's Friday all day at work only to get home and realize it's only Thursday. Whatever's going on, you need a laugh. Everyone likes something that will pick their day up, like funny pictures with captions to make them laugh on a Monday or pass the time a little quicker during class.
I've compiled some amazingly hilarious pictures turned into memes. I pretty much live on the internet (to answer your question, this site is only my guest house), so I'm always coming across new pictures, gifs, videos, and so forth that just strike me. Oftentimes, my thought is… well, not a thought at all, because I'm just laughing my rear off. Sometimes, I see a meme or a clip and I think, "What is supposed to be going on here? What was this person thinking? How is this a joke?"
Of course, humor is completely subjective, so you may not agree with me on all of these, but I just thought I'd share some stuff that I found funny. Also, because I'm always over-thinking, I've given thought to what makes these pictures so funny, and have tried to distill the essence of what they're all doing in common. I'll also go over some tips and tricks on making your very own captions on photos. You don't have to wait to find one online, if you come up with a good idea, you can implement it right away. I mean, after all all of these memes and photo exchanges are really just a conversation. And who wants to be the guy nodding along and saying, "Yeah, what he said. What he said. Ditto to that, too, man…" No, nobody wants to only repeat; everybody wants to contribute. So I want to help you be able to put together your own funny image / caption pairing so that who knows, maybe we'll see your work here in future edits of this article?
Of course there will always be a constant influx of funny images that could use a great caption so keep your eye out on Facebook or Instagram for a photo that's too good to pass up. Feel free to post something you like as a link in the comments, and please, if any of this stuff brightens your day, pay it forward: send this link out so you can help brighten somebody else's day a little, too.
"A drawing is always dragged down to the level of its caption." – James Thurber, Cartoonist
The Funniest Pictures With Captions
Without further ado, let's get into some awesomely funny photos with even better captions. Leave a comment below if you have any other photos that you like, we're always looking for a good laugh.
If you enjoy these pics, please share this post on Facebook or Twitter so that everyone can enjoy them as well. Keep in mind some of the photos can be offensive but they're all meant to be in good fun. I've compiled these photos from around the web and sifted through literally hundreds of images to find the very best ones for you to enjoy.
Everyone loves to poke fun at Elon Musk.  I guess if I had his money, I would go on a shopping spree too!
We've all had the circumstance with a loved one when an awkward situation arises while taking a picture.  You try to talk through your teeth while maintaining your pose.
Sometimes we encounter a barbaric look which is odd at first but makes us laugh all the same.
Occasionally I run across photos with funny captions that make me think of iconic movies. "I'll have what she's having" is a classic line from the movie When Harry Met Sally and is certainly appropriate here.  Even if you don't understand the context, you get it: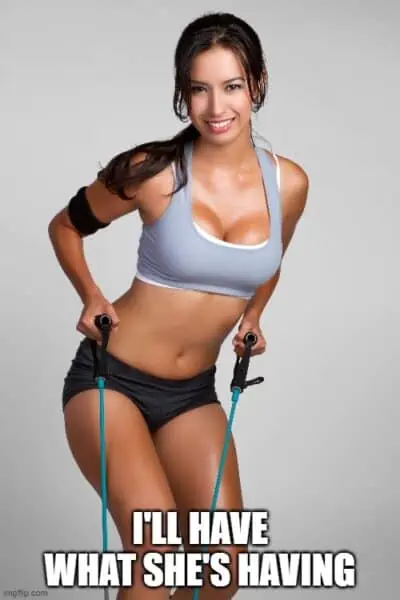 If you don't understand this one, I won't be the one explaining it to you. Google's your friend but make sure no one's watching your screen when you look it up.
Nicholas Cage is creepy as ever and the following is an awesome use of a caption. Let's hope he stops making movies and retires on an island somewhere.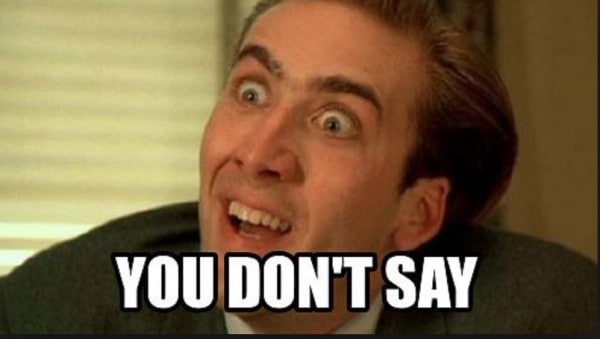 Honestly, any meme with Zach Galifianakis will be hilarious, and this one does not disappoint.  Even when they put a sign at work that says "Pull" I still see people pushing it as clueless as ever. Somehow, I don't think that will ever change.
I've never seen this done before but it would scare the crap out of me I know. On top of the fact that I'm sure it's pretty slippery, especially if it's wet. Good luck to whoever pulls off this prank though, it would be pretty epic.
This is me pretty much every day. 15 minutes into a PowerPoint and I'm fighting to stay awake.
You shall not pass. If you're not a Star Wars fan you can get the heck out.
I hope you don't have a boss like this. No one wants that.
I would argue she's wanted outside of the US as well. Just a hunch though.
Awesome Godfather quote, Don would be proud of this. Those are some seriously big fists, he could do some damage.
Funny Animal Memes
If you haven't seen memes with beloved pets before, you probably haven't seen many funny photos with funny captions. There are a ton of memes out there using animals.  I'm impartial to dogs, I must say.
The fact that they used a pug makes this all the more funny. Basically, any image of a pug is hilarious. I've always wanted to get a pet pug and name him Pizza.
Well that was awkward, wasn't it. Looks like you got a new pet hawk now, you'll just have to catch it before it kills you.
That wraps up this list of the absolute funniest pictures with captions and hopefully got you laughing the entire time. I know I've enjoyed making these and found a bunch that I had never seen before.
If you feel inspired by the memes above and want to make your very own one to share with the world just continue reading below for a step by step guide on creating captions on any picture.
How To Make A Funny Picture With Caption
Sometimes your humor is the best humor. We've all fallen to laughing hysterically at our own jokes only to find other people didn't think it was quite that funny. Oh well, I say continue to laugh at your own jokes and life will be a bit more fun.
That's why I'm going to show you how to create your own funny pictures including text captions and everything. You can opt for an image that you find on Google or one of your own images. Luckily, it's not very hard and will get you on the right track in no time.
To create your very own meme you can use a number of different tools. If you're on a Mac, you can insert text using the preview app and that will let you write a caption on any photo. Alternatively, if you're on a PC you can head over to Microsoft Paint and that will let you add text as well. However, if you are using an iPhone or Android these are obviously not options for you.
That's where the online caption generator comes into play. My personal favorite is Imgflip as the best online tool to upload an image and add captions to it. This is super easy whether you're on a computer or on a smartphone.
First, head over to Imgflip and get a good sense of how the site works.
You'll need to decide on what image you're going to use. There are several built in options for images that you can use or you can decide to upload your own image to add a caption to. I suggest using your own picture as that makes it a little more personal.
After you upload an image you can modify the text both on the top and bottom of the image.
Next, you will have the option to change the font, font size, font shadow, as well as the font color. These are all good tools to change the look and feel of the meme.
Finally, you can download the image or share it directly from the site to Facebook, etc.
TIP: Photos with captions often times have people in the photo. I suggest using a funny image with a person in it to make more of an impact.
The best kind of caption is a funny one so make sure you think of something great or ask a friend that is super funny to come up with a few different options. If you find yourself searching for that perfect combination of image and text, you should make sure you try a bunch of different options until you get the very best one.
Best Picture Caption Apps
If you tend to take photos and want to add text to them regularly than you may want to just download an app that will do it for you so you don't constantly need to go to the site above to do it.
If you use an iPhone, I would recommend downloading Meme Generator that let's you create captions on any one of your favorite photos. You can choose one of the popular meme images or upload your own photo and from there you can add text to it and share it with your friends from the app.
If you use Android, I would recommend the Meme Generator Free, which again allows you to do many of the same things as the app above but is for Android. There are over 600 built in images to use to create your own meme and from there you can edit it by changing the font and altering the color, size, location, border, etc.
That wraps up this post and I hope you found it helpful and humorous. Please comment below with your favorite photos and share this with your friends.