What is Twitch Twitter?
Twitch Twitter refers to the AWESOME global community on Twitter of millions who come together each day to create their own entertainment. Twitch has really done a great job with promoting interaction and enhancing the content and services on the site. They've also partnered with third party entities to provide tools to enhance interaction.
Twitch Twitter also refers to connecting your Twitch account to Twitter and integrating the two platforms to work together to help to send automatic tweets and help you build a community. This is the focus of this post.
About Twitch
Twitch is a video live streaming service which was acquired by Amazon in 2014. The live streaming initially focused on esports tournaments and video games, but now it has live streaming services for games, music, and much more. Twitch is a platform where content creators come together and interact with others. Twitch creates communities around shared interests where streamers broadcast their content with viewers or subscribers who can watch live! Twitch encourages streamers to "make their own entertainment"; Twitch will help you build a community around it. You can stream about anything – cooking, gardening, music creation, video gameplay. Think about the potentials here for entertainment and learning! It's really amazing.
Why Twitch Twitter is Important
If you've ever streamed content or viewed a live stream, you understand that for streaming to be successful, you must build a following. You must have people to interact, after all, in order to have "interaction". There must be people to collaborate and chat. The most effective medium to build a following and community is Twitter, so Twitch Twitter is important to understand.
Imagine that your stream goes live on Twitch, and the title is automatically tweeted to your Twitter followers. Wow! Suppose you automatically receive a tweet when you receive a new follower in Twitch. Read on to find other benefits of Twitch Twitter and how to integrate the two.
Twitter is an excellent medium to grow your stream. For many streamers, it is the primary method of collaboration. Following are 5 benefits of Twitch Twitter integration, and this is why you should care:
When you set up automated tweets via twitch Twitter, you naturally drive viewers to your stream.
Tweets allow you to engage your audience and bring them back to your stream. As they retweet and share information with others, your stream will grow.
As you Tweet and develop an audience, you are also developing your own personal brand and image. How about that? The attention naturally motivates you to continue and develop your stream and expertise to become a real authority!
Not only do your Twitter followers see you streaming on Twitch, but also potential advertisers or sponsors. This is good if you plan to create a Twitch channel or monetize your stream on Twitch down the road.
Tweets allow you to give others advice and develop your expertise, authority, and brand. You also expand your audience and connect with other streamers by sending tweets.
Integrating Twitch with Twitter will allow you to receive updates about Twitch Rivals, a live competitive entertainment event that showcases some of the biggest streamers and most exciting games on Twitch.
How To Link Twitch To Twitter
1 – Directly in Your Twitch Account
You can directly link your Twitch account to Twitter by going to Settings, Connections, and then selecting Twitter.
Once you select Connect, you will need to authorize the app: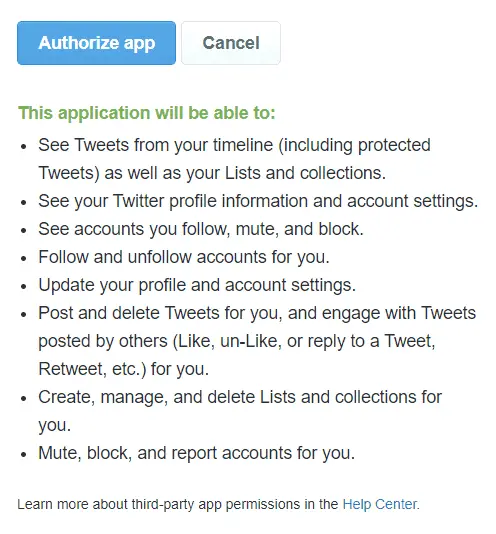 Once you've connected your Twitter account to Twitch, Twitter will automatically tweet out the current title of your stream when you your stream goes live. Now that's great Twitch Twitter in action.
Be cognizant, however, once you've connected Twitch to Twitter, because the tweet goes out automatically. Don't forget to change the title of your stream, for example, before you go live. If you must restart your stream, a tweet goes out with each restart. If you want to add a picture to your automated tweet, you'll need another tool. The automated tweet from Twitch does not allow that option.
2 – Integration via Another Platform
Another way to integrate Twitch with Twitter is to use a third party platform. There are a few that provide many options for Twitch Twitter. Zapier is one such platform.
Zapier is a tool that help you integrate apps and automate workflows. You can use Zapier to integrate many apps and streamline common tasks you perform each day. You can sign up to Zapier with either your Google, email, Facebook, or Microsoft accounts.
You can link Twitch to Twitter on Zapier very easily. There are literally thousands of apps you can integrate using Zapier. When asked to create a workflow, enter Twitch and Twitter:
Once you make a "zap", you'll be able to build, test, and turn on your workflow.
Once you complete the initial connection between Twitch and Twitter, you can sign up for premium features. There's a 14-day free trial so you can try out the features first.   
Once you set up the integration between Twitch and Twitter on Zapier, you will first have the option to select a Trigger. A Trigger on Twitch will set off an action on Twitter. 
| | |
| --- | --- |
| Examples Of Twitch Triggers | Examples Of Twitter Actions  |
| Receipt of New Twitch Follower | Creation of a Tweet |
| Start of New Live Stream on Twitch | Creation of a Tweet with image |
| Start of New Live Stream by Streamer | Addition of User to Twitter list |
There are other options available to you when linking Twitch to Twitter using Zapier:
You can integrate Twitch, Twitter and Discord. Every time that you start a new Twitch Live Stream, an automatic tweet will be posted on your Twitter account and on Discord. The latter is a voice and text chat service available to gamers on Twitch. Many streamers use both platforms to promote their streams.
If you are seeking something a little more compelling than just a tweet, you can set the app up to tweet images once you start streaming on Twitch. 
If tweeting images is not enough for you, you can also use Twitter to send out messages every time you get a new follower on Twitch. That way, every new Twitch follower becomes a celebration and a means to keep track of the progress that you are making on Twitch.
3 – Integration with IFTTT
Another way to integrate Twitch Twitter is to use the AWESOME platform IFTTT.
IFTTT typically stands for "If This, Then That". It is an awesome platform that allows integration between apps and devices to automatic tasks.
You can turn on an applet to automatically post on Twitter when you start streaming on Twitch:
Here are some other options with IFTTT. As you can see, there's lots you can do to automate your tweets:
Post a tweet or receive a tweet when you get a new follower on Twitch.
Automatically post on Twitter when you start a Twitch stream.
When a Twitch channel goes live, tweet out on Twitter.
Obtain Twitch followers analytics and tweets.
4 – Wayscript
If you're really serious about Twitch Twitter and want to customize the interaction, you can use Wayscript to build your own scripts. This will allow you the most flexible integration possible. If you are comfortable building scripts, give it a try. There are also plenty of developers who can help with the integration.
Conclusion
The integration of Twitch and Twitter is absolutely essential for a streamer. With the right integration, Twitch Twitter allows you to build your community and audience and bring viewers to your content.
There are many tools to assist you with the integration – Zapier, Discord, IFTT, and Wayscript to name a few. The most important thing is to just do it.
Integrate your Twitch account with Twitter and begin building the most amazing community possible! There are also ways to monetize your relationship with Twitch down the road, but you'll need an audience for that! Twitch Twitter will help you get there.
Integrating Twitch with Twitter will allow you to receive first hand information about Twitch Rivals, the biggest competitive event sponsored by Twitch with all your favorite streamers and games!
Happy Streaming!