By now, we're all familiar with "Shruggie." He/She also goes by "Smugshrug" or in this Clickhole article about the shrug emoji, "Chip Foster" (in case you read that article and are not familiar with Clickhole, it's a site in The Onion family and is satirical in nature — there's not really a guy suing people, claiming he's the original Shruggie… there may be somewhere in the world, but it hasn't made actual news).  After all, being known as the person shrugging isn't all that glamorous!
The shrug emoticon or shrug emoji has been around for a while but perhaps you're discovering it for the first time and want to utilize it to its fullest potential. It is, after all, a very effective emoticon, and below you'll find instructions for the shrug emoticon included! By the way, the smirk emoji is also popular!
Shown below, the shrug emoticon is one of the more difficult typed emoticons to master!  Once you master this one, more intricate emoticons will be easy!
And it's fun! Let's be real; we're not all business here at Appamatix. We like to think we're kinda like a mullet; business in front, party in the back. Also, we may or may not have a mullet. Now you're thinking about mullets and we took a fun tangent. And we're back. We love all things Apps, especially apps of a social media platform nature, for lots of reasons, not the least of which is because it's fun. So, read on to learn several ways to make the Shrugging Emoticon on several different devices.  You can also use an emoji copy and paste trick to copy a shrug emoji – that is, if you can find one you like!
If you can shrug off a loss, you can never be a winner. — Vince Lombardi
Shrug Emoji – Make Shrugging Emoticon
Y'all. Just really need to get this out of the way first: there are way too many photos of Hilary Clinton shrugging. Google image that. It's fun.  Now a person shrugging conveys a sense of confusion or cluelessness, which can be relatable and humorous in certain contexts.  We've all felt that way!
Also Kanye. But we'll get to him. This is the guy/gal you're here for:
¯\_(ツ)_/¯
Before we delve into how to make Shruggie, we need to school you on where this emoticon came from, a brief history of its rise to fame, and, finally, how to properly use it. Then we'll explore different ways you can procure or make this emoticon. But even before any of that mess, we need to talk semantics. We feel strongly that we not mix the two terms "Emoji" and "Emoticon;" they are two different words and they represent different things.
The Emoticon came first, in the early 1980s, on a Carnegie Mellon University messaging board, with the advent of 🙂 and 🙁 to distinguish between a joke and a serious message. The Emoticon uses characters from the keyboard and the term comes from "emotion icon."
Emoji refers to the sleek, actual pictures, ???? (it's a hat!) and ????(a martini, yes, please) created beginning in the late 1990s by a Japanese firm. The phrase literally comes from words roughly translated into pictograph.
Furthermore, the phrase "kaomoji" refers to the East's version of Emoticon, developed independently, but around the same time. Kaomoji (meaning "face mark") are read head on, rather than the Emoticon's left to right. Kaomoji is the realm under which our good friend Shruggie technically falls under; characters used from the fuller keyboard that allows one to type in Japanese. Also falling under kaomoji, just to give you a better sense of the breadth it represents: ( ͡͡ ° ͜ ʖ ͡ °) as well as   (=^ェ^=).  And now all we can see is that creepy guy eyeing the cute cat.
We figured we weren't the only ones out there who cared that these words are being used interchangeably. To which perhaps you reply: ¯\_(ツ)_/¯. Okay. We get it. But remember, knowledge is power. And you'll thank us when you're on Jeopardy.
Shrug Emoticon – A Rise to Fame
It's difficult to know when anything on the internet originated. But knowing what we know about kaomoji originating around 1986, it's safe to say Shruggie has been floating around the internet for a while. What we do know is when it went viral in our end of the world. Let's travel back to that fateful night in 2009. September 13. It was a Sunday, as is custom for the MTV Video Music Awards. Ringing a bell? If it is not immediately retrievable information for you, one of the following three may be true: you were too young; you were too old; or you were too drunk. Well, even if you don't remember the night, we guarantee you remember reading about it the next day. It was the night Kanye West jumped up and stole Taylor Swift's acceptance speech, gave the mic back to Swift, shrugged and walked off the stage. It was such a strange thing to behold…and über-awkward.
As anyone could have guessed, it became a thing (because we have to codify everything because humans are Structuralists at heart). Urban Dictionary had a new post about it on September 26, 2009: "kanye shrug." And the memes, oh the memes.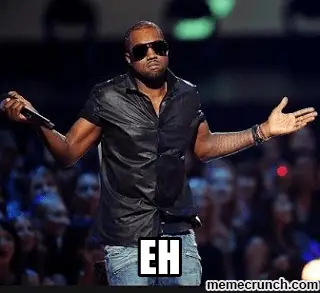 And the following year, the correlation was made by Travis Porter (of 3 Live Crew fame) with this simple Tweet:
For more on this fascinating "Life and Times of ¯\_(ツ)_/¯," check out theawl.com's article of the same name, written by Kyle Chayka.
But let's move on to the why of ¯\_(ツ)_/¯ because we want to make sure you're using it correctly. It's not only a shrug. It's a shrug with a half smile. It can mean a few things. It can certainly represent a sense of "Oh well." It definitely can convey that one is mellow. It can have the negative connotation of nihilism. Or it can give the reader a Zen-like feeling of acceptance. However you interpret it, use it to really make a statement. Without further ado, use it. Here's how to actually do that thing we just said.
Shruggie in Action – Text Replacement Shortcut
There are a few ways to get the Shruggie emoticon.
Whether you're on a PC, mobile, or tablet, you can totally copy and paste. There is even a website devoted to this very task. Check out copyshrug.com. The site has Shruggie emoticon and is totally free to use. It also features a "Shruggie Shop" where you can buy stuff that features ¯\_(ツ)_/¯ like caps and t-shirts. The site also features a Blog highlighting all news Shruggie as well as fun memes and GIFs of the latest celebrity Shrugs. Bookmark the site for easy and quick reference.
For the iPhone and iPad users: there's an app for that. Of course there is. :shrug: by developer Meek is Murder, is available for FREE. What it boils down to is it's a keyboard that you'll add to your other keyboards, only this keyboard contains one character and with a single stroke of that character, you get ¯\_(ツ)_/¯. Easy peasy.
Did you know you can change the device's autocorrect feature? Like, you can set your iPhone to autocorrect to one thing when you type another. Here's how to outsmart your smart mobile phone: Go into Settings and then to Text Replacement. Tap on the + at the upper right-hand corner to add this text replacement. You'll copy and paste the Shruggie into the Phrase section and make a code for the Shortcut. We've seen a lot of people suggest &shrug, or something to that effect. So now, when you type that shortcut, you're iPhone will render the Shruggie.
If you're on a Mac computer, go into your System Preferences, then Keyboard. Go to the Text tab at the top and click. You'll then see two columns: "Replace" and "With." Type in "&shrug (or something of that ilk) under Replace (replace box) and paste ¯\_(ツ)_/¯ into the With column. Now it's saved in your computer and every time you type &shrug, it'll get replaced with the Shruggie.
Finally, you could totally add the Japanese Kana keyboard to your Keyboards. This is a little involved, but it's the only way to actually type Shruggie yourself. So, without further ado, let's take a look at…
How to Type the Shrug Emoji Yourself
Avoid the embarrassment of sending unintended messages due to the device's autocorrect feature by learning how to type the shrug emoji correctly.  A few text replacement shortcuts that might help
First, let's take a look at the various symbols that make up the shrug emoji:
The Superscript Minus (¯) — like a hyphen filled with helium. Not a go-to piece of punctuation. You'll have to use unicode on Microsoft word, using the combo "Alt + 207B". If you're using HTML coding, that's ⁻
Or it may be easier for you just to type a minus (in your word processor of choice) and then manually superscript it through the options of that word processing software.
The Backslash (\) — this is on the same key as your vertical slash, to the right of your closing square bracket on a standard QWERTY keyboard.
The Opening and Closing Parentheses (()) — You know where these are. These are the shift options for 9 & 0 respectively on the number line (not the number pad)
The Slash (/) — This is on the same key as your question mark, to the right of the period key.
The Underscore (_) — This is the shift option for the minus key in the number row.
The Katakana Letter Tsu (ツ) — Just hit the tsu button… what? You don't have a katakana tsu button? Alright, here's where things are going to get a little more involved.
Typing ツ
Now here is something I'm inordinately proud of: I'm going to show you how to type the katakana tsu (ツ) on an iOS device. I'm proud of this because I haven't found a single site that tells how to do it. Oh, there are several (mentioned above) that will let you copy and paste it. But if you're like me, you're not satisfied with just copying. You want to know that you can do it if you want to. Even if you just copy it, or autocorrect it, every time you use it… these actions will be your choice. If you don't know how to type tsu, then it will never be your choice. You will always be a victim of necessity.
Sorry, I went on a tangent there. The point is Appamatix is the only site giving you the process of typing ツ.
So the first step, for both iPhone and iPad, is to install the Japanese (Kana) keyboard. Japanese uses multiple alphabets, so you do want to make sure that it's Kana, and not Romanji (at publication, these are the only two Japanese alphabets offered natively in iOS). But this is pretty simple, and doesn't require you to download any new apps.
Open the Settings app (the Gear icon).
Tap on "General."
In General, find and enter the "Keyboard Options" menu (it may require some scrolling to find.)
Choose "Add Keyboard."
Scroll down until you find "Japanese." Tapping on this will give you the option to add Romanji or Kana. You want Kana!
Now, in any text bar that allows you to enter text, you will have a small world key in the corner of your on-screen keyboard. Tap on that until you're looking at the Kana keyboard, which on an iPad, looks like this:
The key that I've put the red square around? That's the tsu. What's that? It doesn't look like ツ? That's because ツ is katakana, which is a distinct syllabary from hiragana, the keyboard which the iOS kana keyboard defaults to. But the indicated letter represents the same sound. The point is, that's the key you want. Tap it…
And on the gray conditional bar above the keyboard, you'll have various options. I don't read Japanese, and I'm not even going to pretend to, but based on what that bar does in the English setting, these are probably suggesting words or spellings that al incorporate the letter tsu. But what's that new symbol I've put a square around? Why! It's our friend ツ!
And that's how you type ツ… on an iPad. If you go through the same steps I listed earlier in order to install the Kana keyboard on an iPhone, and then try to bring up the keyboard (say in iMessage), you're going to notice that things look different: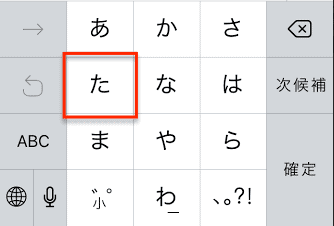 Significantly fewer keys now. That's because this version of the keyboard is designed to use the screen's real estate a bit more efficiently. Each of those keys has a conditional popup menu, so if you hold the key in the #4 position (the one I put the red square on), you'll get this:
And highlighted here, in the North position, we have our friend the hiragana tsu. From here on out, it's exactly what we did earlier, where you're going to choose that symbol and then…
You're going to use the conditional bar again. Both for iPad and iPhone, you're going to need to keep the letter highlighted while you select from this bar. Depending on the number of "suggestions" that come up, you'll probably need to scroll, as the katakana tsu likely won't show up on the first screen.
And that's it. Those are all the symbols you need to type Shruggie! We've given you several ways to bring out this popular shrug emoticon, including one that will let you feel soooo incredibly superior to everybody who's just copy/pasting.
But don't be too superior, or they'll give you your own emoticon. Called Smuggie.  They might even find a a unique emoji for you using the emoji keyboard.  The emoji keyboard contains a ton of fun and easy to use emojis if the shrug emoji doesn't quite cut it.
Windows 10 Emoji Window
The emoji keyboard in Windows 10 is awesome and let's you easily pop an emoji into play. No download programs, simply use the buttons on the keyboard.
To use it:
While entering text, type the Windows logo key + . (period).
The emoji keyboard will appear.
Select an emoji with your mouse.  You can also keep searching for the perfect emoji that's all the rage.
So there you have it.  You've now entered the emoji world and can create the shrug emoticon in seconds flat.  We recommend creating your own emoji, if you dare, using the tips and steps above.
As a last comment, know that if you're just going to correct me on my Japanese orthography, I'll only have one thing to say:
¯\_(ツ)_/¯