This article was updated for 2023.
Gone are the days when you would meet the love of your life simply by walking down the right aisle of a grocery or book store. The atypical romantic-comedy scenario appears even more elusive with Millennials conducting a lot of their lives through online mediums and never looking up from their devices long enough to notice other people in the room.
Thankfully, like the Apple slogan, there's an app for that. In fact there are many apps better than Tinder. If you have ever found yourself navigating to an online dating site or app you probably are familiar.
Tinder has been known to yield some success stories but like many other dating apps has fallen victim to "hook up" culture.  Many people also use Bumble, another popular app, so should I use Bumble vs Tinder is a common question, but more about Bumble below.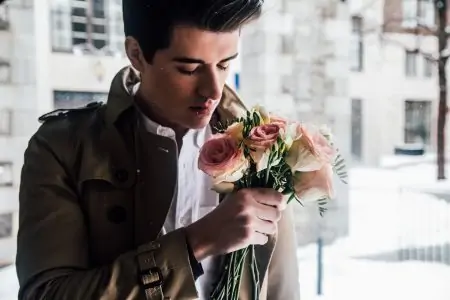 So what is one to do if they are looking for a little more? Some people are simply looking for someone who can be a partner for life. Others maybe just haven't had much luck dating at all. So if you are open to love, done with random hookups or getting stood up – here's 10 alternatives that are better than Tinder for finding potential mates and avoiding all those impersonal "wyd" or "sup" texts.
1. Happn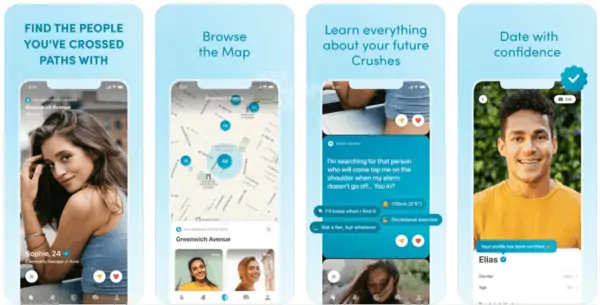 Happn has been getting quite a bit of attention the last couple of years and is known for its popularity amongst women seeking to escape the aggressive sexual interest that seeps into their DMs (direct messages). The app takes connectivity to the next level by showing you a feed of people you have crossed paths with in real life.
Utilizing geo-location might be a little creepy at first but once you start to see patterns of missed connections and crossed paths or overlapping friend circles, you start to see how many great options there are.
The app got its start in Paris, a city known for romance, so hopefully it translates for you in your search for love. When Business Insider writes an in depth piece on you, you know your app is good. For more read What is Happn?
2. Plenty of Fish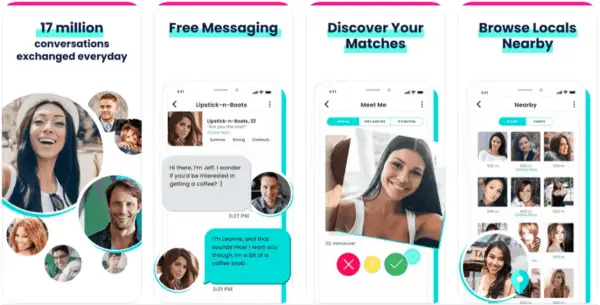 Plenty of Fish is a well established site that now has a mobile app. POF asks users to fill out a lot about themselves from education and occupation, hobbies and interests, to desires about to future like wanting children or the level of commitment you seek now. This helps glean away a lot of prospects who just aren't the best match. Definitely more people looking for dating and relationships on this app vs. casual hookups.
3. OkCupid
Another website that now has an app, OkCupid has long been a place for people looking for more serious encounters. A lot of the traffic seems to come from men who really want a great girl to settle down with. If you aren't looking forward to wedding bells this might not be where you want to start. Appears to be a lot of people who are divorcees or single parents that get connected through this community.
4. Coffee Meets Bagel
Coffee Meets Bagel wants to get rid of the swiping just to swipe method many use to increase their odds of a match. Quality over quantity is the name of the game. Users get just one match per day based off profile and preference settings. The app has been met with some criticism as The Daily Dot mentioned in its article The Best Dating Apps (Other Than Tinder) regardless people do find matches.
5. Bumble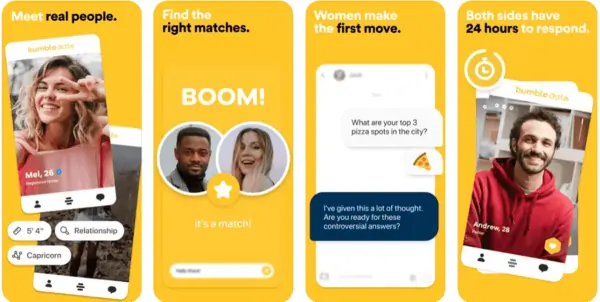 How many times do guys message a girl and she never answers? She may have been busy but odds are either she didn't she your message because frankly, she is hot or she has a life and isn't in her phone all day (most likely). Playing off that, this app makes women message first if a man matches them but the catch is that you have a 24 hour window. The man can extend this if he really wants to stay connected.
They don't do this for same sex couples however, so if you're a women who doesn't have time for this set up, best to try something else. Still it is a very popular app with a simple design and of course Facebook integration. Digital Trend's gave mention to Bumble on their 7 Best Dating Apps For 2016 list and was mentioned by us in our 10 Best Apps To Meet People if nothing relationship-like comes of it.
6. Tastebuds
This is a unique concept that matches people through their music tastes. One of the first things that will attract us to a person is the type of music that they listen to without us even realizing it is connecting us. Unfortunately it is only available on iOS and for the most recent version but you can access it on the web.
Download on iOS only.
7. Match.com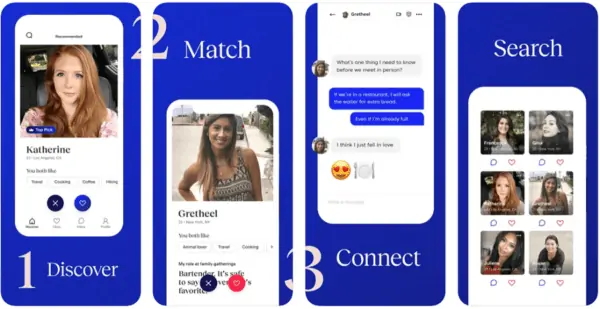 Another site that has grown over the years and created an app in addition, Match is known for really digging into user's interest to match them with the best people. Simple concept, in depth questionnaires and attention to what users ideally want in a mate are met with high levels of success. Most people matched end up in longer term relationships and there's high potential for marriage out of these matches.
8. Hinge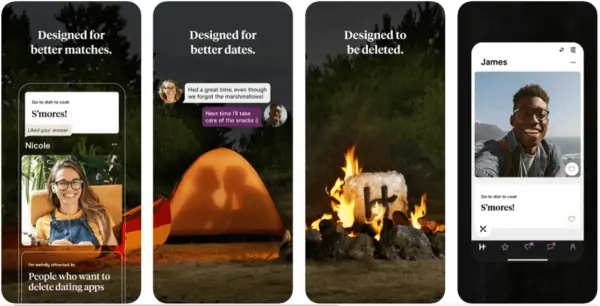 Hinge wants to recreate how dating is in the real world; usually you meet potential mates through your friend circle. This app introduces you to people with mutual Facebook friends. You may or may not get to start a new relationship but you are guaranteed to expand your social circle through connections, check out our article 10 Best Apps To Make New Friends, with Hinge's use of Facebook you have a chance for those connections too.
9. Facebook Dating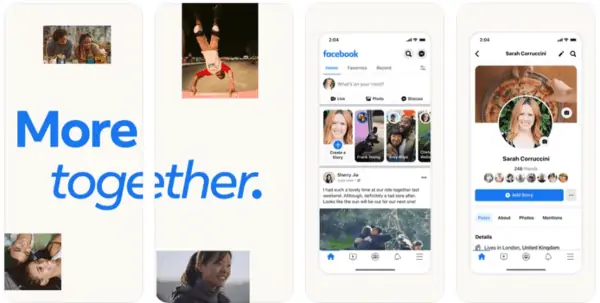 It makes sense that Facebook would have an area within its application for dating. After all, users already have their profiles set up. The Facebook Dating App is integrated with your main profile so that you can see all of your friends who are also on the app. You can begin swiping to find someone to start a conversation. You will then be able to decide whether or not you want them as a friend, or if you would like to chat more.
The dating functionality is not a standalone app and can only be used on mobile. Your conversations are not shared outside of Facebook dating. It's a solid app and great choice since so much of your profile is already set up.
10. Grindr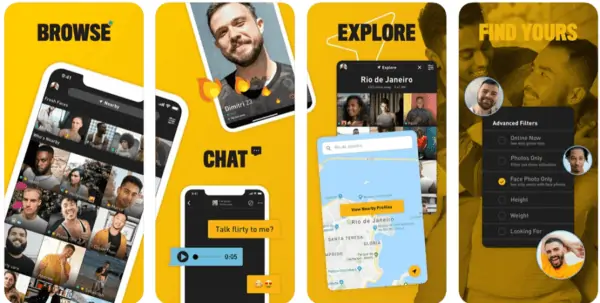 Unfortunately a lot of apps are discriminatory against our LGBTQ counterparts. Though this is changing it is important to mention Grindr. Without it we wouldn't have a Tinder for the heterosexual community (though the app now let's user identify under a variety of orientations).
One of the first apps in the Apple store blatantly about hooking up, was not met without its fair share of criticism for "perpetuating" already promiscuous behavior particularly among closeted men. That still hasn't slowed down gay and bisexual men for finding a safe haven for men they are interested, especially those who may not be out about their sexual preferences.
11. Her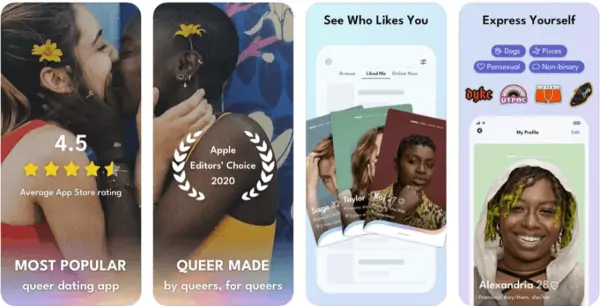 Her is a LGBTQ+ women dating app. It has received great reviews and is a safe place for the LGBTQ community to chat and collaborate. The app has quickly developed a global presence and is currently used in 55 countries.
You must sign up with your Facebook or Instagram account, and there is a verification process.
12. eHarmony
The eHarmony dating app is a dating site for people who are looking to make long-term relationships and has been around since the year 2000. There is a high degree of quality matches due to the extensive questionnaire and matching criteria. For better access to user information, you will need the premium version.
Now that you have some options it is time to put your best foot forwards and upload some selfies. Read up on Best Apps for Great Selfies to get tips and ideas that will help your profile standout. The inside is what's important but you want to leave people with a little intrigue to click on your profile in the first place. Happy hunting and best of luck dating!