If you are like me, you like to have a camera on your person at all times-and this Z Camera App review will tell you why this one might be the best option.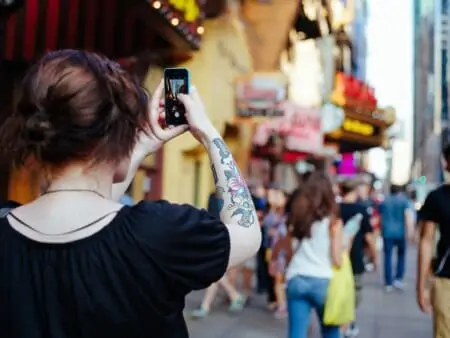 Life moves quickly today and we all need cameras that are fast, productive, and have different features that you need to get multiple photos with a single touch. The Z Camera is a light-weight stock camera replacement that has many features that make it more than just a good replacement, it is actually a good app to have.
There are many different features that you will enjoy, including video modes, beauty filters, quick switches, and the option to hide photos in a private gallery.
Z Camera App Features
The Z Camera app has many different features, far too many to list in a review, but these are the ones that will probably benefit the widest number of people:
Great Filters – there are many filters available during photo mode and in the editing mode.
Real-time Filters – you can preview what your photos will look like before you even take them
Fast Capture – It takes only a second to capture your photo after you press the shutter button
Simple To Use – The interface is intuitive and you can quickly switch between video and selfie
HDR – Use HDR to improve your images, especially in low-light or in backlit scenes
Beauty Modes – One tap transforms your selfie
Private Gallery – Set certain sensitive photos to private so people won't see them as you scroll
Video Mode – Get different options to turn your videos into something special, including flashes, timers, and a good front camera mode
Photo Mode – You have a ton of options to capture photos, including flashes, timers, filters, effects, selfie mode, and more
Beauty Mode – Quickly enhance your images to smooth out skin imperfections or stray hairs
These are just a handful of the features available on the Z Camera app. There are plenty more for those who want to get into the nitty-gritty of photo editing and taking photos.
Z Camera App Modes
There are three different capture modes that you can use, video, photo, and beauty modes. All you need to do is swipe your finger left or right and you will be able to navigate between the three modes. They take about a second to switch over.
Not every mode is as good as the other ones. You will have to play around to see what mode works the best for you and for the type of photos that you take.
Z Camera App Photos
The biggest complaint that people have with the Z Camera app is that it just doesn't take great photos. You can put a lot of work into lighting everything well, adjusting the levels, and the resulting image is still grainy and muted. Some modes will work better than others and you can ward off some of the problems by taking photos in good light, but they still aren't great.
The photos themselves aren't all that big, which is part of the problem. When you take a photo with the Z Camera app and then you use another app, you will notice that the file size is quite different. In order for a photo to be high quality, the photo size needs to be larger. While this will save room on your phone, it will not help you to create beautiful photos.
Sometimes, you can fix this problem when you are editing, but that won't always do what you need it to do either. No matter what, you are making more work for yourself when other camera apps will get it right the first time. If you use filters, the problem gets even worse.
Private Photo Albums
From within the home screen, you can access a private gallery. You need to open the Z Gallery that also gets loaded onto the phone alongside the app. There is also a shortcut from within the camera itself. While in the gallery itself, you will have three different tabs: "My Album," "Other Album," and "Private Album."
For your private photos, you can set a passcode (4 digits) that you will need to enter to get into the images. You can easily private and unprivate images as you go.
Private albums are great features if you are going to keep photos of yourself that you might not want other people to see. It will help to keep certain images a secret, from those selfies you don't want anyone to know about to pictures you've taken to surprise someone else. The only problem we see is that the Private Album is still viewable, so someone will know that you have a private album.
Some people complained about the passcode option instead of just veiling photos or having a long-press option. Personally, I like this type of private album, but I realize it isn't the only option out there.
Remember that it is rarely a good idea to keep your private photos in your photo app where anyone – including your significant other, kids, or parents – can see it. Many people have lamented the lack of a private album built into many other camera apps, so it is good that this one has it.
Watermarks
One complaint that many people who use this app have is that there are watermark features on the app. Most people assumed that the watermark features were able to be personalized or you could at least pick between a few different choices. Nope. The watermark features only show the Z Camera name.
There have been some reports that Z Camera will eventually allow you to make changes to the watermark, but that hasn't come to pass just yet.
Overall Review Of Z Camera App
Once we were able to play around with the Z Camera app for some time, we were quickly impressed. It did take some time to learn how to use the different features, but once we did, it was great. The number of filters that you could choose from was really impressive and they were unique and not just carbon copies of other apps.
The biggest problem I had with the Z Camera app is that, while it had everything you could need to take photos and get them right before you take them, the end results weren't all that great. The photos themselves came out grainy and the colors seemed to be muted. You can change this, somewhat, by using different filters, but that wasn't an overarching fix.
Pros:
There are really great free filters; the ability to hide photos in a private album; easy to download and use once you've practiced
Cons:
There were parts of the interface that felt old; the private album is in plain sight
There are so many different camera apps available on your phone, so it may seem silly to rely on just one. We always suggest that you download a few different apps for your different kinds of photos.
While the Z Camera app will give you multiple filter options and you can get some better choices than your stock images, that doesn't necessarily mean it will be the only camera you need to have.