While Snapchat and Kik have greatly expanded their feature sets to serve basically every age demographic on the map, they still appeal hugely to young people and youth culture. It's no surprise, then, that youth-oriented musicians and performers like MattyB have taken their names to these popular social media outlets to share videos and songs for their followers and fans.
When examined side-by-side, Kik Messenger and Snapchat don't have a great deal in common. Sure, they're both messaging apps at heart, even if the foundation of Snapchat is in its namesake–"Snaps" that allow users to send brief, digestible portions of image and video media that are consumed and lost almost as quickly as the moments they're capturing take place. Kik, on the other hand, is a pure messenger, and while the development team behind it has added numerous features to give it greater accessibility and usability, the messaging cornerstone of this app remains its foundation.
What tends to attract similar crowds to both of these social media-centric apps is the majority demographic that they appeal to. Young people love Kik Messenger and Snapchat and are greatly responsible for the booming success that each of these apps has come to enjoy. Millions of daily users and hundreds of millions of registered profiles later, it will take some serious innovation and competition to dethrone them.
It should also be a pretty well-known fact that wherever young people are gathering–be it a physical space or digital–so too will the celebrities, artists, and famous personalities that are dependent upon their fans and followers in order to multiply and continue their success. Musicians and performers need an audience, and the world of social media and instant messaging have only made communicating with that audience an easier and easier task. Instead of static social media posts that leave one-off messages for fans to fuss over until the next post arrives, people can now engage with their favorite personalities in a much more active way.
MattyB (or MattyBRaps, if you'd rather) is one such celebrity that's taking advantage of youth culture's current attachment to these particular messaging apps. He's a fairly young person himself–only 13 years old–but has already made a named reputation for himself thanks to the popularity of his Youtube channel. Since he started performing in 2010, his own popularity has exploded, and he's been featured on numerous well-known television programs and mentioned alongside musicians and performers that have been around much longer than he has.
Still, in spite of his youth, he's making the same smart move that many celebrities are and hopping aboard Kik Messenger and Snapchat. Whether you're a newbie to these apps yourself, or even if you're a veteran, the following guide will show you how to find the contact information for celebrities like MattyB, so you can find and follow them on the most popular and fast social media platforms.
Kik Messenger
The most appealing thing about Kik Messenger is that it isn't tied to your mobile device. Anyone can make an account, and anyone can technically make as many accounts as they want. That aside, it's also convenient in that you don't need another user's phone number if you want to add them to your own contact list; instead, all that you'll require is their unique username.
You might imagine that it's fairly easy, then, to add MattyB to your Kik Messenger contact!
We're going to start out with your favorite web browser's search engine, and begin with a very simple search query: "MattyB Kik." Among the first results (there will likely be many!) is the young performer's own Facebook page, where he posted his announcement that he'd joined Kik Messenger. Included in that message, as people are like to do when they post such things, is his username! You can follow this link, or simply refer to the graphic below for reference.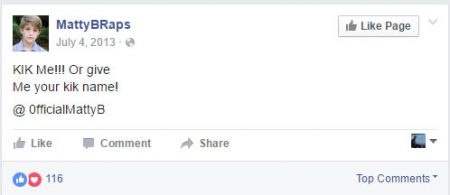 Note that amidst the excitement and exclamation points, "@OfficialMattyB" is the username that you need to keep track of.
Adding MattyB
Next, you'll want to pop over to the Kik Messenger app on your mobile device. From the main page of the Kik application, tap the "Search" option in the top right corner. From this entry field, you can type in MattyB's username and complete all of the necessary steps to contact him on Kik!
Simple, right? It's this simplicity that keeps people coming back to Kik Messenger. Most of its competition requires users to either be listed in each other's address books or at least be willing to share phone numbers before they can begin messaging each other. Kik keeps things simple, and because of that, it's a remarkably easy place to connect with celebrities.
Snapchat
Adding someone on Snapchat is also a fairly easy process, and like Kik, won't require you to share any particularly personal information to get started. Also like Kik, we're going to start our hunt in a search engine, this time with the query, "MattyB Snapchat."
Snapping MattyB
Contrary to our Kik search, you're going to find that there isn't a definite, immediately available source for singer MattyB's Snapchat information. There's a good reason for this: he isn't a public Snapchatter!
While this news may be disappointing to some fans and followers, it's important to remember just how much age can factor into a performing person's career. MattyB is only thirteen years old, as of this article's posting! When you compare that to just how established in their professional careers most celebrity Snapchatters are, a person this young still has quite a lot of catching up to do.
Reflect for a few moments on your own upbringing, and the compare it to the well-known demands of keeping up with several social media accounts on a regular basis. If you were juggling that alongside the usual rigors of growing up included with also being a popular Youtube performer, you can see how fans' expectations might be slightly out of line when they want their new young idol to appear on every popular social media outlet.
In reality, we'll very likely be seeing MattyB on Snapchat soon, as long as his popularity continues to increase. As it stands, his fame is still potentially a fleeting thing–he's extremely young, has a great deal of growing to do, and has made it thus far largely upon his endearing covers of more established performers' songs. None of these is inherently a bad thing, but it's a good reason to keep expectations and hope in check, especially if you're among those following MattyB's fledgling music career.
Celebrities on Snapchat
Of course, I wouldn't just leave you hanging without any additional famous faces to add to your list of active Snapchatters. While MattyB may not yet be on the popular messaging and chat service, dozens more are, and they're all exceptionally easy to reach! Here are just a few to get you started:
John Mayer: @johnthekangaroo
Lady Gaga: @ladygaga
Keith Urban: @keithurban
Madonna: @madonna
The Lonely Island: @tliboys
Bernie Sanders: @bernie.sanders
Chris Pratt: @ChrisPrattSnap
Jessica Alba: @jessicamalba
The number of celebrities that are actively Snapchatting is both diverse and widespread across all genres of the professional entertainment world. Models, actors, musicians, comedians, and even fitness stars are all active on this popular social media platform, waiting to be followed by interested fans.
If you're looking for more, there are dozens of databases available online, available and constantly updated for your perusing pleasure. As of now, they're also all lacking a listing for MattyBRaps. Someday, this may change, but until then, there's no excuse not to keep yourself entertained with the many other personalities available for you to follow. If you're in the need for more images and videos straight from your favorite celebrities, Snapchat is the best way to go about getting them.
Of course, you shouldn't let yourself get too hung up on Snapchat, simply because one of your favorite celebrities isn't publically available on it, yet. Kik is another alternative, and if you truly do want to follow every little artistic thing that MattyB is doing, you can always follow his increasingly popular Youtube channel. He also maintains several other social media profiles, such as a frequently updated Instagram profile.
The important thing to remember, as stated above, is that you're following the talents of an exceptionally young artist. He certainly has that talent, but as time has shown over and over again, it's important to give young creatives room to breathe and grow as they explore their own potential. Who knows? Maybe we'll be seeing an album released at the same time that he decides to join Snapchat!
Regardless of how interested  you are, it's impossible to deny that MattyB is another precedent for the increasingly frequent "Youtube celebrity" trend that's brought so many otherwise hidden talents into the public spotlight. MattyB fans in search of new videos and songs from the young artist will get half of what they're looking for in the Kik and Snapchat combo, but the better places to look are where MattyB has made his name–Youtube!