FIFA Ultimate Team is one of the best games ever made since you get to control your favorite soccer players and build your own teams. FUTHead helps you enhance your Ultimate Team, and the FUT Web App helps bring your play to the next level. But keeping track of player's prices can be a hassle and that's where Futbin makes your life thousand times easier!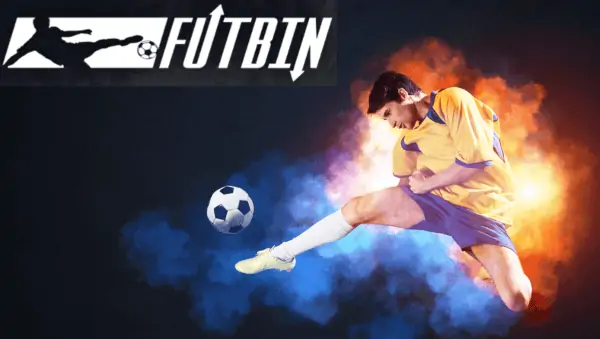 Tracking the price of your favorite players is super easy but the benefits of Futbin run far deeper than that. There are also easy-to-understand graphs that allow you to trade players and make a decent profit from them.
In this post, you'll learn;
Why you must use Futbin if you're a FIFA Ultimate Team player
How you can use Futbin to earn coins
And helpful features that'll make your FIFA Ultimate Team experience much better.
Let's get started!
What Is the Difference Between Futbin and Fut Bin?
There is no difference between Futbin and Fut Bin. Sometimes it's not clear whether the words Fut and Bin are together or separate, but they refer to the same thing. I think the confusion stems from the fact that Fut and Bin have meanings on their own, so it's not surprising that players would confuse Futbin and Fut Bin.
FUT is an acronym for FIFA Ultimate Team, and BIN is an acronym for Buy It Now. When you put the two together, you get FIFA Ultimate Team Buy It Now. It make sense, then, that Futbin is a tool to help gamers find the right prices for players. The tool has evolved over time and has added many more features and functionality. This is all based on gamer experience, and the game makers have done an awesome job of providing
What Are The Benefits Of Using Futbin?
Futbin is the most powerful research tool for FIFA Ultimate Team players as it contains everything you'll need to improve your gaming experience. You can check out graphs, ratings, and prices of certain players and based on that information, decide if you want to trade or invest in a player or not.
Tracking Player Prices Is Convenient
Checking the prices of players is easy on Futbin as they're updated every few hours and this ensures the prices are as accurate as possible. They also give you prices for each Xbox, Playstation 4, and PC. 
Also, as the year goes on there are more special cards and the prices of these special cards are updated every few minutes since there's a higher demand for them.
Their Graphs Are Detailed And Easy To Understand
Futbin's graphs are the main reason why people love using them since it's clean and simple. It's similar to graphs you see on the stock market and it updates almost instantly. 
If you can notice patterns of certain players after looking at the hourly and daily graphs, you can make a lot of coins. It's easier than it sounds. Once you get used to how the market and certain cards fluctuate after promotions and new releases, you'll be able to predict what certain cards might do more accurately.
There are also different types of graphs. You get weekly graphs, daily graphs, and hourly graphs. Each gives you important information on what the market did and how it might perform in the future. This is where you'll spend a lot of time as a Futbin trader.
You Can Easily Earn More Coins
One of the best ways to earn coins on Futbin is to go to the SPC dropdown and select "cheapest players by rating". Here you'll find all the cheapest players per rating and this is where all the money is made.
These guys are said to be the cheapest players in each rating, but if the market is booming and lots of people are trading SPC's, their price will increase, leaving you with a nice profit.
Another method of making money is to head over to the "similar" tab and look for players that are similar to a player you're looking to buy. For example, if you're looking for players similar to Hazard and you see another player like Mertens with a similar rating but for far cheaper, you'll want to buy him as soon as possible.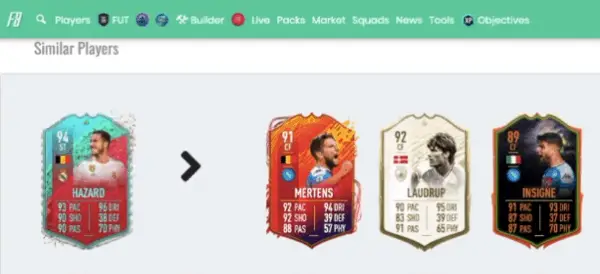 Mertens might be undervalued and people aren't seeing his true potential. When demand for him inevitably increases, your investment will increase and you can make a nice profit. You can do it with any player as it's a reliable way to make money.
Their Indexes Is A Reliable Way To Store Coins
The principle behind Futbin's indexes is similar to what you'll see on the stock market where you can invest in hundreds of companies at once. With Futbin, you have lots of options to choose from when looking for an index to invest in. Some include;
Index Icon
Index Gold
Index Silver
Index 100.
Index Icon tracks all 78 icons while Index Gold tracks the price of 100 gold players. Index Silver tracks the price of 50 silver and Index 100 tracks the price of 100 "normal players" which include 83 gold players, 16 silver players, and 1 bronze player. This is a great option if you simply want a place to hold your coins for a while.
There are also a few extra options that allow you to predict the market more easily. For example, the top/down option on the bottom of every index page shows you the biggest player fluctuation of each index. The Market Momentum shows you the "mood" of the entire market. If it's positive, negative, or neutral.
How Do I Use Futbin To Earn Coins?
One of the biggest pros to using Futbin apart from their price tracking feature is that you can earn extra coins without much effort. Let's start with the easier way to earn coins and that's by completing daily and weekly challenges.
Complete Daily And Weekly Challenges
Daily challenges are an easy way to earn extra coins. This new addition isn't compulsory if you want to move forward in the game, but by completing them, Futbin gives you anything from 100 coins to a huge variety of player packs.
Most of the time you don't even need to actively try and complete them. It's so simple that you'll complete them by accident when playing the game.
By simply completing each daily and weekly challenge as it pops up, you'll receive an extra few thousand coins by the end of the week.
Earn Coins By Playing Matches
There are two ways of playing matches and earning money. They include;
Online seasons
Squad battles
When playing online seasons, you play against other players who're in the same league as you and when the season is over, you receive coins based on where you finished on the log. 
I prefer this method of earning coins since it resembles a traditional league and this creates extra drama. You'll end up having rivalries with other teams and the emotional rollercoaster is exciting
However, if you don't feel like playing against other online players, Squad Battles is a new feature where you can play against Futbin's AI. Although you won't receive coins at the end of a season, you'll receive bonus coins and packs based on your total amount of coins at the end of each week. 
What Are Some Helpful Features To Look Out For?
Futbin is famous for tracking player prices accurately, but other features are super helpful and nobody speaks about them. These features are;
The Futbin Portfolio Tracker
The Futbin Club Import
The Futbin Portfolio Tracker
The Futbin portfolio tracker is a useful tool for anyone who's trading on Futbin. It's easy to find, simply log into your Futbin account and it'll be part of the tab at the top of your screen.
Once you've clicked on it, you can type in the name of any player you'd like to track. You'll also be asked to enter the amount you'd like to track, how much of a specific card you'd like to track, and a note or comment to help keep track of each player.
Once you've entered those details, Futbin creates a portfolio for you. Here you'll see the quantity, lowest bid amount, and the number of cards currently trading.
On the left, you'll find a graph that allows you to track the price of your card for hours or days. I prefer to look at the hourly graph since you'll see which direction the market is going.
This does wonder for your FUT management and trading.
You'll also get a table that shows all the sell prices and listed prices. This way you can see which cards sold at which price and which cards never sold. This gives you an idea of a price to buy at and how much to sell your cards. This table accounts for EA tax so you know exactly how many coins you're left with at the end of each trade.
The Futbin Club Import
The Futbin club import feature allows you to see your transfer profit, top goal scorers, profit gem, and SPC analyzer. What more can you ask for?
If you want to import your entire club, you'll first need to download a Chrome extension called "FUTBIN". 

Open the Futbin web app and refresh the page with the new Chrome extension installed. Go to your club players and simply right-click all your players. Voila! You've imported your club.
Conclusion
FIFA Ultimate Team is an addicting game where 5 hours feel like 5 minutes. But by using Futbin with FIFA Ultimate Team, you'll make your gaming experience ten times better since you get to track player prices, import your club, and invest in player indexes. 
You can also make a lot of coins by trading on Futbin which makes this a must-have for every FIFA Ultimate Team player.