Note: This article was originally published on January 15th, 2015. We've updated it to include new information as of May 8th, 2016.
The feud from Apple to Microsoft has been a long and battled one. Steve Jobs and Bill Gates always have had a love hate relationship that forever shaped the tech industry. By far, they are the two founders of modern personal computing and have always respected one another yet disagreed on tactics and general strategy.
Apple tends to focus on aesthetics, ease of use, and an overall controlled and optimized experience. Whereas, Microsoft has always focused on personalization, open sourced software that works with any hardware, and fit for purpose computing.
However, ever since Apple started using Intel processors in their computers, the rift has gotten smaller and smaller. Mac machines are now capable of many of the things that had previously been entirely the domain of PCs. For over a decade, all versions of OSX have shipped with Boot Camp—an application that makes it possible for you to build a partition on your hard drive and install Windows (or Linux, or whatever OS tickles your fancy).
And while PCs are still industry standard for most commercial platforms, Apple is taking the personal computing market by storm, and in turn has a number of its own functions and apps which PCs will need to make workable on their machines if they want to keep up.
Fortunately, most PC manufacturers (i.e., all of them), don't use the sort of "walled garden" approach that Mac has become famous for. With a Mac, the list of apps you can install is very small, and your ability to personalize your interface experience gets smaller and smaller. The latest version of Macbooks don't even come with any sort of physical media drive or USB port, so you are once again being forced to have a very specific experience that Apple wants you to have.
Of course, this sort of narrow customization is exactly what makes Apple products so secure: since they don't allow for a lot of user customization, there aren't as many accesses for a virus to exploit. However, it's still frustrating when you fork out so much for a computer and can't even do what you want to with it.
But with each Apple-only function that PC can develop a workaround for, the less dependent you need to be on your Apple product.
Whenever I go from home or running errands to work I always kick myself that I can't continue to use iMessage for PC when I want to chat with my friends on my Windows computer. It's something that I've always wanted to find a way around and to be able to sync my messages from my iPhone and iPad.
Below, I will fully flesh out all options you have if you want to sync your messages from your iPhone to your PC and back. Unfortunately, your options are limited considering the feud I mentioned above with Apple and Microsoft.
"To create a new standard, it takes something that's not just a little bit different; it takes something that's really new, and really captures people's imagination. And the Macintosh – of all the machines I've seen – is the only one that meets that standard." – Bill Gates
Is iMessage for PC Possible?
The short of the story is that yes, it is possible to get iMessage on Windows machines but it comes with a cost, which I'll discuss below along with a few other options. Keep in mind that there are tradeoffs and evaluate whether it's worth the trouble and potential harm by making use of these tricks. As always, consult your device's terms of service for more information.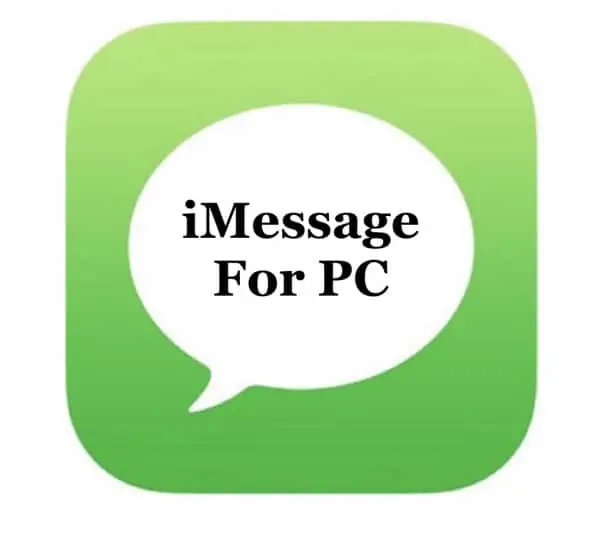 TIP: For this trick to work, you must already own an iPhone, iPad, or Mac computer. Remember that iMessage is more than just an app, it is a service. It's not enough to just have the software, if you don't have an account for that software to connect to. Fortunately, since iMessage is bundled into OSX and iOS, you have an account if you have a single Apple product. So just remember, you're not able to get iMessage to work unless you already have it enabled on one of those devices and can use it to either push or connect with your PC to use iMessage.
There are two main ways to get iMessage to work depending on whether you have an iPhone/iPad or a Mac. I'll outline the two methods below.
iMessage for PC with iPhone
If you have an iPhone or an iPad the only way to sync it so that your iMessages will go to your Windows machine is to jailbreak the phone or tablet. There are a few caveats to that, which you should know and take into account before continuing.
TIP: Jailbreaking your iPhone or iPad is NOT illegal as you own the device and can do whatever you want with it. However, if you bring in your phone to get serviced while it's under warranty, jailbreaking it will void the warranty. This is only fair, after all: warranties are there to protect against problems that arise during normal use, or use as directed. It's a company's way of fixing things that shouldn't be going wrong (and thus, are completely their fault if they do). When you jailbreak your device, you're going off that beaten path, and are no longer using the product as directed. Apple products operate in a very fragile ecosystem, so if you introduce elements that weren't designed for it, Apple shouldn't be held responsible.
If you proceed, I recommend restoring your phone completely to factory settings before bringing it in for service so they won't know your phone has been jailbroken. If your device is not under warranty anymore you really don't have anything to loose by jailbreaking the device.
Follow these steps to get your iPhone or iPad to push iMessages to your PC.
First, you'll need to jailbreak your iPhone or iPad so that you can download Cydia. Check out the Lifehacker article for more information on jailbreaking.
After following the steps on Lifehacker, you will want to make sure you get Cydia installed onto your device so you can use it to get any software.
Once you're finished, open up Cydia and search for "Remote Messages" which is an app that pushes your iMessages from your iPhone or iPad onto another device through a remote server. The app is $3.99, which in my opinion is definitely worth the price for the convenience of texting on your PC. This app works for both iOS 7 and iOS 8.
After installing the app, go to your settings, then Remote Messages and you'll see a screenshot similar to the one below. Make sure you create a username and a password and toggle the enable button on. It's up to you whether you want to add SSL.
Now that your iPhone or iPad device will be able to connect messages to your PC. You will have to make sure your iOS device and your PC are connected to the same WiFi connection or this method won't work.
Open your browser, this works on Internet Explorer, Firefox, Google Chrome, etc. You will want to enter in the IP address shown in your Remote Messages settings as stated above.
After entering in the IP address, enter in a ":333" which is the server port. Example: If your IP address is 192.168.0.1, then you'd type in 192.168.0.1:333 in your address bar.
You will need to enter in your username and password but from there you will see all of your iMessage conversations show up on your Windows computer.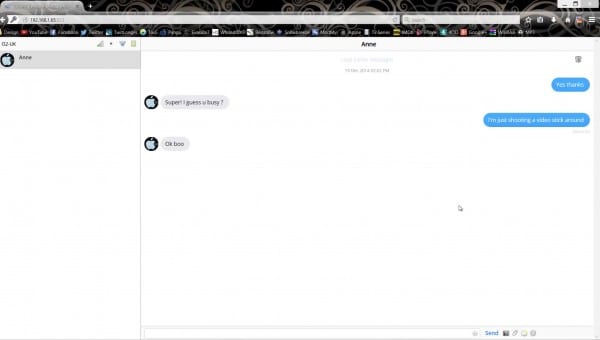 Let us know if you have any issues with the steps above and leave a comment if you know any more tips.
iMessage for PC with Mac
The next option you have is to get iMessage for PC by using a Mac computer. This trick only works if you have a Mac. It doesn't matter whether you have a Macbook Pro, Macbook Air or iMac. Also, for this to work your Mac has to have iMessage enabled so that you can get and send messages. If you don't have it enabled, make sure you sign into your Apple ID account using your email address and password.
Follow these steps to remote in to your Mac from your PC and that way you can control the Mac remotely to send and receive messages.
First, you'll need to get Google Chrome on your Mac and on your PC so that they can connect with each other.
After you have it downloaded, you'll need to download the extension called Chrome Remote Desktop, which allows you to remotely connect to any other computer.
Now that you have Chrome and Remote Desktop, you want to head over to Chrome on your Mac and go to the extensions setting and find Chrome Remote Desktop if it doesn't automatically show up when you open a new tab or window.
Follow the steps for authorization and accept when it asks you for permissions to run the extension on your Mac.
Next, it will ask you to share your computer, make sure you click to share it and you'll get an access code that you have to save to enter into your PC to get you access. It will look similar to the screenshot below.
Now that you have your access code, open up Chrome on your PC and navigate to Chrome Remote Desktop in your extensions settings. You will need to follow the same initial steps to grant access for Remote Desktop to operate correctly.
Navigate to the Remote Desktop connect page and select to link to a shared computer. From there, enter in the access code you got from above on your Mac and hit connect.
You will now have full access to your Mac and be able to send and receive iMessages on your PC.
Note: This option gives you full control of your Mac but your computer must already be on for this option to work. Your Mac can't be off as there would be no device to connect to.
Let us know how this method works for you, if you find any glitches in it or if you have any additional tips to make it work more smoothly.
Alternatives to iMessage for Windows
There are a few great alternatives that can let you have the best of both worlds and not have to finagle the tricks above to get iMessage to work. The best option is to just buy a cheap Mac computer. You can buy a Mac Mini, which is Apple's cheapest computer for only a few hundred dollars. Look around for a used Mac Mini and that way you can use it to send and receive messages as much as you want and for free without having to download any additional software or jailbreak your phone or tablet.
Another good option is if you're willing to part from iMessage, you could download another app that allows you to send and receive messages. I recommend using WeChat because it is available for pretty much every device you'd want to use to talk with your friends or family. One of the cool features is that it also has a web client, which means you don't even need to download the app. This is a great option if you're on a work computer and don't want to or can't download any software onto it.
Finally, my recommendation is to message Apple and the iMessage developer group and recommend they create either a Windows version or if they would make iMessage open source so that others can create bolt ons that would allow use on a PC. This would open up the market and create more advertising and publicity to Apple if everyone is using iMessage instead of other messaging services like Facebook Messenger, Gchat, BBM, Communicator, etc. on their computer. Let's hope Apple would make this a priority and give their customers what they really want.
New Options in 2016
Well, we've reached 2016, and Apple's iron-tight grip on both iMessage and FaceTime haven't loosened in the least. Even while competitors have struggled to keep up with what users enjoy about these two proprietary apps (or surpassed, depend on who you ask), Apple has remained staunch in its position that iMessage and FaceTime will only run on Apple devices.
This has been the situation–and a very real frustration for consumers–has been going on for long enough that alternatives have begun to crop up in the hands of experienced coders and programmers, as well as legitimate third-party offerings that are now good enough to replace iMessage if you want them to. Standard SMS text messaging is no longer enough to cut it if an app wants to succeed in this market, and so the following two recommendations have both proven their strength with millions of active users.
The first that you'll want to consider is one that was mentioned back in 2015 and has been steadily growing in popularity over the course of the year. Facebook Messenger now has the design, capability, and features to compete with any other messaging service that's currently available, and in lieu of an actual version of iMessage that runs on Windows PCs without significant frustration, it's one of your best alternative options. Considering its origins–the very Facebook that's still fighting to dominate your web browser, accessing all of your contacts and conversations from Messenger is as easy as visiting the Facebook web page. In short, it's an excellent alternative to iMessage that doesn't require you to jailbreak your phone or entertain fishy third-party applications.
Our second new recommendation is neither new or particularly far from Facebook, considering it was bought out by the social media giant in 2014. WhatsApp Messenger has undergone some significant changes, but still remains a popular messaging app that millions of people use. Streamlined, minimalistic, and just as ad-free as iMessage, it likewise has an easily accessible web app that will allow you to utilize all of your contacts on your Windows PC. Granted, the app is still largely grounded on mobile devices, and you'll need to have a mobile device if you want to use the WhatsApp web client, but it remains one of the most viable iMessage alternatives available. We've even set to receive video calling in WhatsApp in the very near future.
Let us know what you think about the guide above in the comments section. Did this guide work for you or did you find any issues with the technical side of it? We are happy to hear your concerns and will try to answer them. As always, we appreciate if you would share this article with your fiends on Facebook and Twitter so they may enjoy iMessage for PC as well.