Facebook has become prevalent in just about any and every website, app, social media platform, etc. You can hardly go to any website without having like buttons. Which makes sense, after all, because every website wants to generate traffic (please take this time to like Appamatix), but a lot of websites, social media networks, and other services require Facebook in order for you to log in.
Many websites these days don't even have their own sign-in protocols for their comment sections or other user feedback functions (such as ratings). NO, instead, you are always asked to link your Facebook profile. Which I get: the theory is that if your comments or other online actions are somehow connected to a real-world, real-name presence of you, this will remind you to be a human being.
However, I don't always want Facebook in everything I do, especially in some of the more private aspects of my life… aka, my Tinder usage. Everywhere you look, there are social logins, social commenting, or an app asking to access your profile and friends. Sometimes it would be good to cut the cord and eliminate Facebook from your online presence, none more so than when using the dating app, Tinder.
Every once in a while it would be nice to use Tinder without Facebook linked to your account and that is what I will walk you through in the guide below. Keep in mind that the app constantly changes and updates their rules so there may be new tips and tricks coming out in 2015 or 2016 to get around a linked account. But as things stand now, this works. The trick below works both on iPhone and on Android so you don't need to worry whatever device you're on.
First, let's get into a little bit of background information and get an idea for why Tinder decided to force you to link your account. This will lead us into a related question: Can you have the app delink the two services, or will you always be forced to have the two paired? We'll answer that below.
Why Is Tinder Linked To Facebook?
As I stated above, Facebook has become so prevalent in our daily digital lives that it pops up practically everywhere whether you want it to or not. In a very clever way, Tinder has piggybacked on Facebook's popularity for a number of reasons that I will cover below. I would argue that it has helped the app's fast growth and adoption among young generations. Below are reasons Tinder requires you to link your Facebook account.
The first reason is a general shield against abuse. When you are required to use your Facebook account to link to Tinder most people do not fake who they are and create a new account (more on that below). This way the app basically does a quick, free, and easy background check on you to make sure you're a real person.
This in turn makes new and prospective users more likely to trust the app (sign up).
Next, if you use Facebook you will already have a profile photo or multiple images uploaded. Therefore, Tinder can just use those photos without asking you to upload new photos. This means its easier for the user to sign up, the app is automatically populated with your profile photos, and they are likely photos of yourself as you use them on your Facebook profile. This consolidates a lot of things, because now, instead of having to manage several different social media presences ("Okay, I've updated my Facebook info, and Twitter, that just leaves Instagram, Pinterest, Snapchat…."), your Facebook changes will automatically carry over to your Tinder presence.
The app will ask you if you want to let it view your contacts, if you say yes, this will scan through your contacts and try to match them with people that pop up in the app for you to rate. This adds a bit of familiarity and "realness" to the people if you can know they are friends of a friend.
For these reasons it is a good idea to prohibit people from using Tinder without Facebook as you can't use some of the key features of the app if you don't link it to another account. Luckily for you, there are a few ways around this that I will cover below.
 Why You Should Unlink Tinder and Facebook
Now that we've covered some valid reasons on why Tinder would like you to use Facebook to setup and link your account, let's get into some reasons why you should unlink Facebook to your Tinder account. Some of the reasons below may be why you stumbled onto this article, some may be new to you. If you can think of other ones please comment below and let us know your reasons of motivation.
First and foremost, the primary reason you would want to unlink the accounts is for dating privacy. Dating is one of the primary things in life that you want to stay out of the public sphere and away from online profiles. Granted Tinder doesn't publish anything on your Facebook profile but they still reveal if you're friends with potential matches, they grab all your friends and profile photos.
For me, that's a little too much trust you're putting on a dating app which has access to all of your dating history and hookups. Given the tendency for services to be hacked these days, I wouldn't want these services linked and your information shared across platforms. This just makes me think of how much easier it would be for NSA to gain access to your location, dating profile, pictures, etc.
The second reason is if you don't want to use the photos in your Facebook profile for your Tinder profile photo. In communications studies, there is a concept called register. Register is essentially a set of norms used for one group, that can differ from group to group. In a lot of multicultural studies, this is akin to "code switching." Basically, you speak to your mother one way, your boss another, and your girlfriend (hopefully) a third. It doesn't mean you're putting up a false front in any of these instances, but that you are choosing a means of behavior and self expression that is more suited to the context (or register) that you're currently in. This really comes to a head in the profile pictures.
Maybe, as a joke, you post an old picture of yourself: a seven year old you whose face is all covered in chocolate. Your friends might get a big laugh out of that, and you might as well, but now, that's going to be everybody's first impression of you on Tinder. Or say that you want to commemorate a recent visit with your sister by changing your profile picture to one of the two of you together. People just swiping through on Tinder might assume she's your girlfriend, and that your a jerk for fishing on Tinder while in a committed relationship. In these cases and in others, it would be good to use your own photos of your choosing, so that you can have the friends and family appropriate profile picture for Facebook and the more "come hither" profile pic for Tinder.
That last reason is simply because you don't want apps snooping around your contacts, profile photos, friends, etc. We all give up little bits of our privacy for the convenience of a digital age, however, at some point it is too much and you want to lay your foot down and say that's enough invasion of my privacy.
Now that we've covered some background information on the subject, let's jump into different strategies for using Tinder without linking Facebook to your account.
Is Tinder Without Facebook Possible?
Tinder recently updated to version 4.0.9 for iPhone and it still does not include a function to disable Tinder's link to your Facebook account. As of writing this, there is no official way to enable Tinder without syncing to Facebook.
However, there are a couple of methods you can use to minimize the privacy invasion and a few methods you can use to completely separate yourself from your real Facebook identify. I'll walk you through these options below along with tips and tricks to make the most of the new setup.
Increase Facebook Privacy
Can you use the privacy features to your benefit? One of the first and foremost methods you should enable is to head over to Facebook and make sure you limit how much you are sharing and what other people can see. Facebook is notorious for breaching people's individual privacy so you want to make sure you stay on top of updating your settings so you're not sharing too much information.
I'd suggest heading into your Facebook account and limiting all your photos to only your friends. Also, you can limit how much of your Facebook account Tinder can use by following these steps.
Go to Facebook.com on a computer or on the desktop site on your mobile phone.
Click or tap on the little lock icon with three vertical lines at the top right.
Now, you'll want to click on "See More Settings" at the bottom.
Navigate to "Apps" then click to see all of them.
You will find Tinder on the list. Click on it and make sure next to App Visibility it shows Only Me. That way, Tinder won't be able to post anything to your Facebook account and show people that you use Tinder.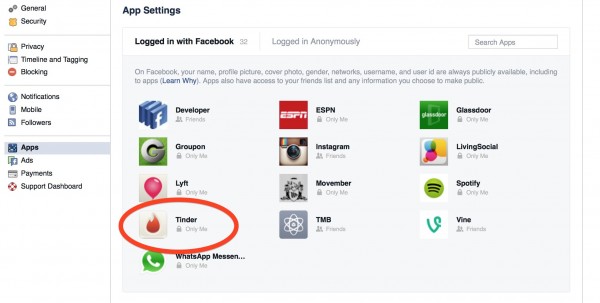 If you're curious on what Tinder can see on your Facebook account the list below the visibility shows you what they have access to, including:
Facebook profile
Age and general info
Friend list
Email address used to sign up for Facebook
Relationship interests
Birthday
Status updates
Education history (college, high school, etc.)
Interests and hobbies (bands, sports teams, etc.)
Current city
Photos
Pages liked
If you don't want Facebook being able to see all these things you should either not use Tinder or follow the steps below to create a Facebook account solely for Tinder.
Create New Facebook for Tinder Account
The next option if you don't want to change your privacy settings and limit Tinder's ability to link your personal Facebook account to your Tinder account is to simply register for a new Facebook account. We are NOT suggesting you create an account with a fake name, fake photos, fake age, etc. You should have all your real information but it'll just be a simplified and limited account that only shows the information you'd like to portray to the Tinder dating community.
It's key to note here that you should use your real name, age, photos, interests, etc. No one wants to date or be friends with a liar or someone that takes advantage of others.
To create a new account to use with Tinder just follow these steps.
First, head over to the Facebook sign up page where you will sign up for a brand new account. Note that you will need a different email address than the one used for your previous account. If you don't have another one, head over to gmail.com and sign up for a new email account.
You will need to enter personal details like your first and last name, email address and/or phone number, password, birthday, and your gender. Make sure you answer them correctly as these things will go into Tinder to match you with people that are similar to you. You don't have to worry about people seeing your last name in Tinder as it keeps your last name private.
Now, head over to the Tinder app and tap on the settings gear at the top left.
Tap App Settings then tap Logout and confirm logout.
You will be logged out of Tinder and want to login with your newly created Facebook account.
Sign into the Facebook account you just created above on your iPhone or Android and then go to Tinder and tap the Login with Facebook button.
Now, Tinder will link to your new account and you can limit how much information you put on it.
Using your new account make sure you login add a few photos to your profile, add interests so that you can be matched with other people on Tinder and fill out your "about me" so that people can get a sense of who you are.
Push Tinder To Change
If you're not happy with the solutions above you can always push Tinder to change their policy regarding Facebook integration. If you head over to the app and tap on settings then Contact Tinder you can make suggestions. I would recommend suggesting they make Tinder without Facebook an option. If they get a high percentage of their user base asking for it, I'm sure they would make the change.
Also, another option is to just wait it out. Tinder may eventually decide to change their policy on this matter and let you sign up for Tinder without linking it to your Facebook account. However, Tinder has made no indication this feature is coming in the short or long term.
What do you think about the guide above, did it help you get a good grasp of your options on how to use Tinder without Facebook? Unfortunately, there is no way to completely delink the two services at this point but there are options for making it more tolerable. Let us know if you have any other tips below and if these methods worked for you. It would be interesting to hear about your thoughts and opinions.
Tinder Without Facebook Update June 2015
We've gotten a lot of messages asking us common questions and thought we'd update this article as it's been a few months. This will answer some of the most common questions about linking Tinder to Facebook, creating fake Facebook accounts to sync up with Tinder and more. We hope this will help you get on the right track. If you still find that you're having issues, comment below and we will try to solve them to the best of our ability.
1. How do I fix the "Whoops! An error occurred while requesting a token for SMS Verification. Please try again." error message?
This is a common message when it comes to verifying your Facebook account with Tinder through the setup process. If you keep getting this error try to use the following techniques to get it to accept your SMS token.
First, try to force quit out of the app. This means double clicking on the home button on the iPhone and swiping the app up to close it out fully. If you're on an Android phone you can go to the app manager and close out the app for good. This should reset the SMS verification tool.
If that doesn't work, try to delete Tinder from your Facebook app in the settings. On an iPhone go to settings, then apps and find Facebook. Tap on it and delete the sync between the two apps so that they no longer communicate.
Try now to sync the two accounts again by logging in to your Facebook account on the Tinder app and see if you're getting the same SMS error. Make sure you login with the Facebook account you want to link, not necessarily your personal account.
2. I just changed my Facebook profile picture but it's not showing up as the new picture on Tinder, how can I change it?
This is another common problem and one that can be a bit confusing and not intuitive. Since you sync the two accounts you would think that after syncing them any change made on the Facebook account would show up on Tinder. However, this is not the case after you sync them. After the sync they are again completely separate and there is no data shared between the two apps.
To make the change on Tinder, you will have to manually go into the app and from there change your profile picture to match what you just changed it to. It's a bit annoying but just head into the Tinder profile setup settings and change it from there.
3. I just created a fake Facebook account to sync with Tinder but when I go to login, Tinder wants to use my real account and not my fake account. How do I use my fake account?
Tinder obviously would rather everyone use their real account as that makes their service more credible from their point of view. However, not everyone wants to show everyone else on Tinder who their friends with, all their profile photos, etc.
Sometimes it's good to keep your dating life separate from your personal friends life, especially during the initial stages of dating. If you're having trouble with Tinder using the wrong Facebook account, follow these steps for iPhone.
First, you will need to log out of the Tinder app on your iPhone.
Next, go to your settings and find Facebook under apps. From there, delete the Tinder permissions associated with your profile.
You will want to now log out of Facebook so now you're starting from scratch where nothing is synced anymore.
Login to Tinder and it will pop up with a page asking you to login with Facebook to sync the apps. Now use your fake Facebook account login and you should be all set.
I hope this answered some of the new questions that have been bugging you. If you have any more questions, feel free to leave them below. Also, if you found another tip, let us know in the comments below so we can try it!
Tinder in 2016 – What's New?
Hello once more, Appamatix readers! In the time since we've last written on the subject, two things have remained constant: the growth of Tinder, and the growth of Facebook. Where else could you meet a successful nurse that lives nearby? As you might be dreading to read, the two app-based social entities are still in bed with one another (pardon the pun!) and aren't showing any coming signs of separating. While this may cause some understandable friction in regard to how you feel about these two social media platforms, the interactions between the two have helped to shape the direction of Tinder's growth and have arguably made it a better overall matchmaking and hookup service as a result.
This is, of course, contingent upon our agreement that honest representation on Tinder is the only way to go because more of your Facebook information is available to prospective matches than ever before.
More Information. Your education and professional backgrounds–as written on your Facebook profile–now are fair game as featured information on your Tinder listing. Before you raise an argument against it, realize that this was one of Tinder's most requested additions, and it has severely impacted that veil of anonymity that Tinder creeps often clung to when trying to disguise or hide parts of their identity.
Share it like you mean it. Now, much like you can with other social media platforms, your Tinder profile allows you to create a unique, custom handle, so that your listing can be shared anywhere else on the web, at any time. Want to give someone a mainline right to your heart via Tinder? This can now be accomplished much easier than before.
Extra special connections. Maybe you went to the same school. Maybe you worked the same gig. Thanks to Tinder's access to your Facebook profile (we can't do without it, so we might as well look on the bright side), the matchmaking app can now cross-reference information between you and the people you're matched with, to see if you have anything extra special in common.
Profile photos. Here's one that might interest you, Facebook-wary folks. You can now upload profile photos to Tinder directly from your phone, rather than having to go through Facebook every time you wish to do so! It isn't exactly the disentangling that many users are still searching for, but it's reliable, and it's a good start!
GIF Keyboard. Let's face it; the more time that we spend devoting our time to Imgur and other sites, the more that we become grade-A meme masters. If you fancy yourself an expert of the GIF image, you can now select from a huge library of searchable GIFs, right from the messaging keyboard in Tinder.
While there's still no way to get rid of Facebook and keep using Tinder, we can at least be thankful for the ways that this marriage of social media giants has allowed Tinder to grow into a more robust, honest matchmaking service. As usual, leave your comments and questions below!