For a few years now the Tinder dating app has been the most popular mobile dating application for young people. Most single eligible bachelors and bachelorettes will have had Tinder downloaded on their mobile device at some time or another. It is a great way in which you can meet interesting new people, as well as finding a potential romance.
In the past, online dating was not very mainstream or popular, especially among the younger generations. Online dating was restricted to a few well known websites, which meant that you would have to be on your computer in order to converse and reply to messages.
Once Tinder hit the marketplace, online dating became mainstream, as it was easily accessed only a fingertip away. You could go anywhere and still use the app and meet great new people on the go. You will be hard pressed to find a young person in this day and age that does not have some form of smart phone device that they can use to access the internet.
If you have only just downloaded Tinder and you are a bit lost, don't worry about it, the process is relatively straightforward to get started and matching with like-minded people. The app is constantly getting updated, so you do need to pay attention to the latest developments in the app to ensure that you are using it to your best possible advantage.
Without further ado, here is a comprehensive Tinder online dating guide for you to enjoy.
Getting Started
Your first step is to go the application store that is on your respective device and download the Tinder app. If you prefer to use Tinder on a desktop, there are programs and applications that you can run to do just that.
Once you have downloaded the free Tinder app, you will have to go through a registration process that is simple and quick. In order to use the app, you need to have a Facebook account. Most people will use their own personal Facebook account for this, while others prefer to keep it separate and set up an alternative Facebook account with which they will use for Tinder.
The registration process is so straightforward because the app will use the personal information that is on your Facebook, such as your name, age, occupation and education to fill out the required fields. It will also allow you to see if a match has any mutual friends or interests to you.
While Tinder does not post anything to your Facebook without you intentionally allowing it, some people are a bit concerned that they might. These people might not want their family, friends or acquaintances seeing that they are using a dating app and therefore will make a different Facebook account specifically for Tinder. This also allows them to only add information that they wish to share, as they can fill in on their new Facebook account what their occupation, education etc. is or even leave it blank if they prefer.
It only takes a matter of a couple of minutes to be up and running with the app after you have connected to your Facebook account. You are now ready to add the finishing touches to your profile.
Adding Pictures to your Account
Your next step is to decide what pictures you want to have showing on your Tinder profile. There are six slots available for you to use, so you need to choose wisely. There is no minimum requirement for the amount of photos you decide to use, you can use anywhere from 0 to 6. However, it is always a good idea to have at least four photos, as this gives potential matches a good idea of who you are and what you enjoy doing. If somebody has only a couple of photos, it can ring alarm bells and you will not get many matches.
You should use your best picture in the number one photo slot, as this is what people will initially see when they are swiping through potential matches. It is a good idea to have a variety of different photos in your profile. This means that you don't want to have all selfie photos or photos where you are doing the same thing. Try to show off your different hobbies and interests, whether it is sports, art or travel.
Having too many selfies is generally frowned upon, as well as having too many group photos. Nobody wants to go carefully through each group photo trying to figure out which person is you. You should try to limit the group photos to one or two at the very most.
In the past, you could only use pictures that were on your Facebook account, which meant that you would have to upload any photos that you wished to use there before you could use them on Tinder. This was a bit annoying for most people, but thankfully it has changed since then. Now you have the option of using photos that are on your Facebook or you can upload them from your picture gallery on your phone.
Filling out your Biography
When a potential match goes into your profile, they will have the ability to scroll through your photos, as well as read your biography. While some people decide to leave this blank, it is normally best to fill it out at least somewhat.
Most people will provide some sort of background about themselves; what they enjoy doing, where they go to school, what they work as etc. Other people will have humorous and witty lines in their biography. It is normally advised that you avoid writing paragraphs and paragraphs of text in your biography, as it can become a bit much to read when someone is simply glancing through your profile. The biography is a great way in which to give someone a quick snapshot of who you are as a person.
Tailor your Settings
Your first port of call is setting up the search parameters. Go to the settings menu and enter into the "Discovery Settings" section. This is where you turn on the ability of your profile to be discovered by other app users. You can also use this section to set your location. When you are swiping through potential matches, it will show how far they are away from you.
As it is online dating, theoretically you could match with people who live hours away from you, which is not ideal if you are looking for romance. Therefore, you can tailor the search radius to your preferred distance. With a regular Tinder account you can change the search parameters from 1 kilometer to 160 kilometers. You can then choose what gender you want your potential matches to be, whether it is women, men or both.
Finally, you can decide what age range you want your potential matches to be. This age range lies between 18 years old and 55+ so you can decide what age profile you are dealing with.
You can then go into the "App Settings" section and tailor how you would like to receive notifications from Tinder. Some people prefer to turn these notifications off as they like to be inconspicuous in case somebody looks at their phone.
Start finding Matches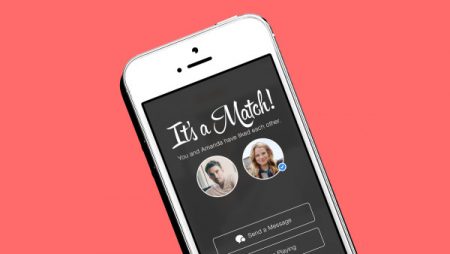 In order to match with potential partners, you utilize the Tinder swiping system. When you are looking at potential matches, you will first be faced with their main profile picture. You then have the option to click into their profile to see their other photos and their biography, you can swipe left if you don't want to potentially match with them, swipe up to super like them and swipe right to try and match with them.
Swiping left means that you won't appear in the person's list of potential matches. A super like means that you really want to match with the person and they will be told that you have already tried to match with them. Swiping right means that if the other person also swipes right, you two will match and you can start a conversation.
Conversing with Matches
When you start getting matches, you can start talking to them using the messaging part of the app. This is how you get to know the person and to see if you too connect. Simply reading a biography and looking at pictures isn't the way you know that you too will be compatible; you need to talk to each other.
In the messaging section, you have the ability to send funny gifs. If the conversation goes well, you may get the other person's phone number and arrange a date. If it does not go well, don't worry, there are plenty more matches in the sea!
Conclusion
Tinder is a great way to meet new people and to potentially spark up a romance and a potential relationship. With modern technology, it is so easy to talk to people form a wide variety of backgrounds that have similar goals and needs as yourself.
If you are not using the app, you are missing out. If you have any comments or thoughts about this Tinder online dating guide, be sure to share them with us in the comments section below. Happy matching!