The mobile app revolution hasn't come without a fair bit of hardship for those who've embraced it, and chief among those is the problem of cross-platform compatibility. We've seen certain apps run across myriad different devices, and so we want to do the same thing for all of our favorite apps; take Tinder for example, which runs like a dream on the iPhone, but doesn't seem to have a native version for the iPad (which runs on the exact same mobile operating system!) As it happens, there's usually a rock-solid reason for developers to focus their attentions the way that they do. We'll continue to use Tinder as our example while we explore this issue. It's an exceptionally popular app, after all, and one that often gets asked after when people are trying to access it from their iPads.
Whenever you're having a discussion that revolves around cross-platform compatibility (or incompatibility), it's important to examine the "why" behind why an app might be absent on a specific device's app store.
In the case of Tinder, it's a massively popular iPhone and Android app, but it's very much relegated to a place on smartphones. Tablets don't seem to get any of the action! As alway, there's a reason for this, and it has nothing to do with wanting to keep Tinder off of certain devices. In the case of this app, it serves its purpose (and in turn serves those who use it) much better on smartphones. Let's examine why:
Everyone has a smartphone. Tinder is built mainly to help users build relationships with other people, and in order to do that, they need to have quick and ready access to the app, in the first place. How many people are carrying a smartphone in their pocket? Now, how many people are carrying an iPad in their pocket?
Tinder looks after its users. For the most part, Tinder does what it can to weed out spam, dishonesty, and anything else that is going to waste peoples' time. It requires Facebook and ensuring that it's on the device you're going to see the most frequently is a benefit.
Verification is important. Since Tinder wants its users to be as forthcoming as possible (in order to result in more successful matchmaking), you're required to verify your account by using your smartphone's phone number. This wouldn't be possible on an iPad.
There are smaller, more nuanced reasons that Tinder wouldn't work as well on an iPad, but these are the mainstays, and they're the reasons that it's not likely we're going to see a Tinder app for the iPad.
However, we do have a workaround for you in the meantime, but there are a few things you're going to need to know before proceeding with it. Our guide will give you step-by-step instruction to get Tinder up and running on your iPad with minimal fuss, and we'll let you know what else is required before delving into it.
Tinder on Your iPad
The first thing that you're going to need to know is that Tinder must be tied to two different things–your phone number and your Facebook account, the latter of which is definitely more important than the former. You cannot set up a Tinder profile without linking to your Facebook profile, and you can't verify your Tinder account without a phone number.
We touched on the reasons for both of these things above, but let's look at some basics about Tinder, in order to make sure that the reasoning is crystal-clear.
Tinder wants to shield its users from abuse, and the number one tool that abusive people use online is anonymity. It's a problem in just about every sphere of online culture, and whenever a situation presents itself that people are able to act without a face, they're also able to act almost entirely free of consequence.
Since Tinder is a rather intimate app in the first place, it would be poor form to allow users to create profiles without some deeper forms of verification. While some users may want to remain as anonymous as possible for the sake of their own privacy, this sort of behavior goes entirely against the grain of what Tinder is about in the first place.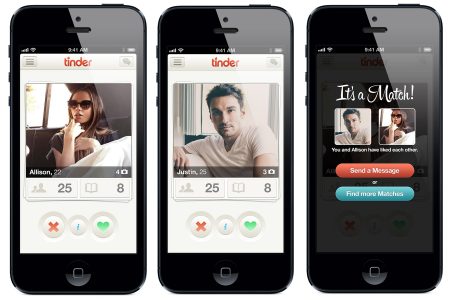 Tinder is not about anonymity. Tinder is a tool that you can use to put yourself out into the world to encourage social engagement, and hopefully even romance! Therefore, the Facebook and phone number requirements are in place for a good reason, and it's overall a good thing that we're not able to circumvent them. Because of this, you must have a Tinder profile before you can access the app on your iPad. Currently, this is a set-in-stone requirement that you're not going to be able to work around.
Setting Up Your Tinder Profile
The setup process itself is remarkably simple, and if you have your smartphone handy, you can do it in a few minutes. First (and most obvious), download the app from your mobile device's app store. Since your Tinder profile will be intimately connected (no pun intended) to your Facebook profile, tethering the two will automatically fill in all of the necessary data that the app needs. Your name, age, job, pictures, and more will all be available for the app to use, to better establish a representation of who you are for people that might encounter your profile.
If you'd like to minimize the impact that Facebook has on your Tinder profile, check out one of our previous write-ups, for details on how to limit your Facebook privacy settings in ways that will reduce the amount of information and media that goes to Tinder.
Accessing Tinder on Your iPad
First things first–make sure that you have the same Facebook account up and active on your iPad as you do on the mobile device that you completed the Tinder setup on. Once that's done, head over to your iPad's App Store to get started.
The first thing you're going to want to do is simply search for Tinder, even if you know fully well that you're not going to find it (you likely arrived at this guide after doing so, right?) After turning up no results, apart from a bunch of third-party apps that you should ignore, look to the upper left of your iPad screen. In the App Store's search function, you should see a search filter setting that says "iPad Only." Give it a tap, and switch it over to "iPhone Only." You can probably see where we're going with this!
After you've completed this step, the Tinder app should show up as the first item in your App Store search results. From here, you can download it, install it, and sign into Tinder the exact same way that you would have on your mobile device!
Here's where things also start to get a bit tricky, however, even though Tinder will work just fine. Even though you're running it on your iPad, it's technically still an iPhone app that's not designed to run on a larger screen with a wider resolution. Because of this, typing, browsing, swiping, and everything else you associate with Tinder might be a little bit more difficult than if you were simply running the app on your mobile device. This is the price that's paid for being able to run Tinder on your iPad at all, though, and after a bit of time spent getting used to it, it shouldn't pose any significant challenge.
Also, keep in mind that the best Tinder experience will continue to be on your mobile device. This particular point I can't stress quite enough, and just like any other application that was designed for a specific device or operating system, running the app in its native environment is always going to be the easiest. Even though you can access Tinder on your iPad now, don't uninstall it from your original device, and be prepared to do most of your Tinder searching where the app can run natively.
Tinder is one of those landmark digital services that's helped to usher online dating into the mainstream for our culture, removing much of the unnecessary malaise and freeing up more people to use it as a way to find good romantic matches. Considering just how much we use technology to keep in touch with one another anymore, this can hardly be construed as anything but a good thing.
Still, if it's tech-related, there are always going to be hiccups, glitches, workarounds, and platform limitations associated with any given software. Trying to run a program or app on a device that it wasn't designed for will never be without a smidge of difficulty, but we can be thankful that this particular problem is solved fairly easily. In lieu of not having a native Tinder app for the iPad, this is a pretty simple workaround that will let you bring your Tinder experience to a larger screen. As always, don't forget to leave your thoughts, questions, and experiences in the comments below, and share the guide with your friends!