Snapchat has a new feature (well new in the sense that it came out 3 weeks ago; is anything really new anymore?) which they're calling Travel Mode and this new feature has the potential to save you some money.
We're here to tell you all about Snapchat's latest update which includes Travel Mode, how to access Travel Mode in Settings, some possible problems that may arise and how to troubleshoot them, and finally, how Travel Mode can save you some of that sweet sweet moolah. That way you can avoid exchanges like this:
–"Honey?"
–"Yes, dear?"
–"We've gone over on our data plan again."
–"DAMN YOU AND YOUR SNAPCHAT WHICH LOADS STORIES WHILE YOU DON'T HAVE INTERNET ACCESS!"
"A good traveler has no fixed plans, and is not intent on arriving." —Lao Tzu
Snapchat Travel Mode Explained
First, let's talk a bit about Snapchat's recent update. There's a lot bundled in, and while this money saving Travel Mode is the thing of most interest to most users, there are a lot of other features which shouldn't be overlooked.
This newest version also lets you go slap happy with your Stickers, so you can plaster the traditional Snapchat emojis anywhere on your Snaps. You could already put them in lines of text, but now you have even more freedom. This feature is called Sticker Picker.
Another new feature lets you tap on the eye icon next to the number of views on your Snap to bring up a list of viewers. Yes! Karen got that Popeye-Face I sent! Oh, but I see Derek doesn't seem to care. Well, Derek can find another ride to Angie's party.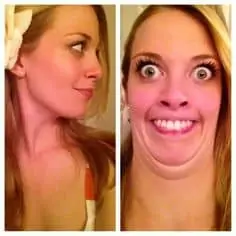 And finally, the latest version of Snapchat expands the usefulness of Snapcodes. Snapcodes are a quick and easy way to add friends to your account. Instead of having to have a long conversation about how to spell your handle, which letters are replaced with numbers, where the underscores are, yadda yadda yadda… Instead of all of that, you can just bring up your Snapcode, which is essentially just a QR code with a couple of graphical Snapchat flourishes. This code is your handle, as far as the app is concerned. So now, when you meet a new friend, you can just bring up your Snapcode. They'll open up Snapchat on their phone, point their camera at your Snapcode, and voila… you're now friends on Snapchat.
Well, this new update lets you export your customized Snapcode as a video file, so you can share it on Facebook, Twitter, or/and Instagram. Ya know, to let all your favorite people know even more about every moment of your waking life.
Seriously, Travel Mode Explained
Now, those are fun updates and all, but back to the subject at hand: Travel Mode. *Cue Oo's and Ah's.* This new feature is handy because it enables you to turn off Snapchat's ability to load content when you are not in a position to receive it for free. Let's face it, a lot of app developers are developing for a sort of perfect cash cow end user: someone who always has the latest device with the best upgrades and options, along with an unlimited data plan, and perhaps extra spending cash for some in-app purchases. But how many of us does that accurately describe?
Many of us are on the lowest tier of our phone companies' data plans, and constantly bumping up against that data ceiling (and its attendant fines) towards the end of every month. If you're in that camp, then you've probably been in a position where you've thought, These dang Snaps and Stories are just eating away at all my data. Maybe I should just get rid of Snapchat once and for all.
Surely, Snapchat is aware that a lot of people are having this conversation, and some of them are walking away from Snapchat. This is why Snapchat has set up this new feature, which will allow you to put all the new stories on hold until you're in a place to receive them.
When you're out and about, running around to the mall, the grocery store, the salon, the cupcake parlor (is that a thing? It should be.), you can have your Snapchat set on Travel Mode and it will hold off on loading Snaps and Stories and the like. You will still receive notifications when you've been sent a new Snap or Story, but you must tap on the Snap for it to load. Lots of people have noticed that the Snapchat app eats up a lot of data, so with Travel Mode you can save some of that data for a time when you have internet access.
Now, as welcome as this new feature is, and as much a sigh of relief as many users are breathing because of it, the new feature is kinda, well, not featured. You've gotta dig a little in Snapchat's Settings screen to find it.
Before you look for Travel Mode, be sure you have the latest version of Snapchat. Go to your respective app store and update to the newest version of Snapchat (v.9.14.1.0), or you'll never find Travel Mode or true happiness.
However, once you've done that, here's how to access and enable Snapchat Travel Mode:
From the main screen of the Snapchat app, swipe down to reveal your Snapcode
Tap the Settings icon.
Scroll down and select Manage (it's just underneath the Additional Services section).
Tap on the box next to Travel Mode.
Under Travel Mode it states: "Disables auto-loading of content like Stories when you're using mobile data."
For further clarification check out this section of the Snapchat Support site.
Easy-peasy lemon-squeezy.
Actually, hold the lemon squeezy, because as we all know, the same app can sometimes behave very differently on different devices. If you use and Android device, your road may be a little bit rockier. There have been reports of odd goings-on with this update for Android users. One in particular found when he activated Travel Mode on his Android, the Snapchat app force closed and he ended up having to delete the app (see our article on how to do this) and re-install the app. A minor inconvenience considering the money Travel Mode can save you.
(Now, to be fair, I've not seen a lot of reports about this, and none of my Android using friends have mentioned this to me, but if this does happen to you, know that you're not alone. Also, I've not run across anything like this for iOS users, so this doesn't seem to be an issue on the iPhone.)
I mean, look, this is not gonna make you rich but if you're anything like me, you get toward the end of the billing cycle and you get those friendly little text reminders that "You have used 75% of your data." "You have used 90% of your data." "Your mom said she doesn't even really like you." (For best effect, read the previous sentences in your best robot voice.) So, every little bit helps. By setting Snapchat on Travel Mode, you're mobile data is not piling up so quickly without your permission and if you use the app to it's fullest, you know it piles up quickly especially since the new Discover feature came out in January.
For those of you who are new to Snapchat, or at least don't keep up with all the Snapchat announcements, think of Discover like the algorithm generated "radio stations" on Spotify or Pandora. Here, we have "channels," which are run by trusted media sources like CNN, Food Network, or Comedy Central. Each channel will release 5-10 "hand-curated" stories a day. (Snapchat doesn't go into a lot of detail about what this means.
I think they're saying that these aren't just cranked out by some algorithim, that there will be somebody there who is putting together Snapchat stories for followers to enjoy.) Now, depending on how many of the 15 unique stations you follow, this can easily eat up your entire data limit in short order. Thus keeping you from being able to use that precious data for needful things like GPS, or looking up IMDB trivia to win an argument at dinner.
At least with Travel Mode, those Discovery channels aren't going to touch your data unless you want them to, so you have one less thing your parents or partner can bother you about.
Travel Mode is just one of the indicators that startups and other social media websites are trying to cater to a more budget-minded audience. And this is far-reaching and actually an indication of a global view.
Previously, we've been locked into a cycle where efficiency and flair are perpetually at odds with each other. As soon as the technology develops to let us use current websites or apps without making too stringent demands on our devices, new developers realize that this means we aren't using our devices to their potential. So, more demanding protocols become standard, and we all struggle to keep up until the tech makes this commonplace. (But then, once again, we'll feel like we're wasting our device if we're not really putting it through the paces…)
Meanwhile, smartphone users around the world, in developing countries especially, have to micromanage their data usage because it so expensive. And they don't want to risk not being able to use the internet at all or paying exorbitant overage fees. So tech companies are trying to make their apps smaller and less expensive to download, opening up the fun to the world market.
Snapchat is poised to have an international moment with the advent of Travel Mode along with some other small but mighty changes to the app. Just one more revelation that the world is literally at your fingertip…even while you yourself are in travel mode.