Not only is practically every person in the US packing a smartphone in their pocket, many of them are also feet-first immersed into the world of social media such as Snapchat. No longer must your Snapchat experience be limited to your smartphone, however; we'll show you how to access the popular app with a free download for your Windows PC, whether you're using Windows 7, 8, 10, or XP.
Out of the many social media experiences that embrace "the feed"–the ever-present, never-ending barrages of status updates, images, videos, and links–Snapchat has perhaps taken that experience to its furthest reaches. In true Mission Impossible style ("this message will self-destruct in 10 seconds"), all media shared through Snapchat is limited in its lifespan, by default. Though features have been added that allow you to hang onto that media for a little bit longer, the whole point of the app is to consume media at a pace as similar as possible to how life is experienced. Moments don't last forever, and so when you view a snap from one of your contacts, you're encouraged to take it in for what it is–a moment–before moving along. We're a culture that's swimming in media, and since we have so much to wade through, all the better that we can do so fast.
On Snapchat, there are only two things that can slow you down: the rate at which you choose to move through all of your contacts' snaps, and the app's limited availability outside of smartphone operating systems! One of those things is entirely in your hands, dear reader. The second is something that we're going to fix right now. Read on!
The key to solving this particular problem isn't in tricking Snapchat into running on your computer. Instead, we need to trick your Windows PC into thinking that it can run Snapchat, and this is going to be achieved through emulation. Emulation is the process of using your computer's existing resources to replicate a different computing environment altogether. In this case, we're going to emulate the Android OS.
Even though Snapchat works wonderfully on other smartphone operating systems, Android is the only one open enough (and supported enough, by third-party developers) to make emulating worthwhile. Don't think of this as a drawback; instead, consider it a benefit that will streamline the coming setup process and allow you to start snapping from your Windows PC that much easier.
This guide will exist in two parts: first, we'll help you to find an Android emulator that will suit your needs, and help you to set it up. After that, you'll see just how easy it is to get Snapchat working within your new emulation software!
Finding the Right Emulator
Even a cursory glance through your preferred search engine will reveal a flood of potential Android emulator solutions. It's likely that some of the best have risen to the top of your search results, but in order to save you some time and effort, I'll list a few of my preferred options here. This is a diverse selection of software will perform the same basic task very well–emulating Android OS–but each will still have unique quirks and traits that allow them to stand apart from one another.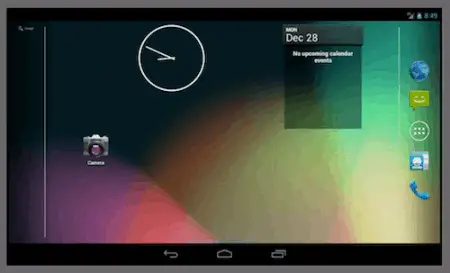 You can't ask me about Android emulators and not get an Andyroid recommendation right out of the gate. It didn't start out as my preferred emulation resource, but thanks to Andy's minimalistic design and ease of use, it has become my favorite. It's easy to download, and though it doesn't carry the same flash or flair as other Android emulators, it gets the job done and still has a professional-level appeal that you won't find in many other Android emulators. The developers even wrote a blog post about getting Snapchat up and running with their software!
Bluestacks? Bluestacks. If it wasn't the first emulator in your search results, you're likely to see recommendations for it everywhere as soon as you begin searching for the software that will give you access to Snapchat. There's a reason for this, and though part of that reason has to do with excessive marketing, it doesn't remove the fact that this is a very capable Android emulator. It advertises itself very heavily towards gamers, but that doesn't mean it won't successfully emulate any Android app that you throw in its direction. On top of that, the development staff behind Bluestacks has given it a professional polish that catches one's attention almost immediately. If you want to remove the third-party advertising software that comes with the free version of the emulator, though, you'll have to pay a very small monthly subscription fee.
Always my odd duck out when it comes to recommendations is Manymo. Rather than a software package that you'll download and install, Manymo is a browser-based emulator that you can run from practically anywhere. It also allows you to emulate Android at various resolutions, which is beneficial for apps like Snapchat that are only designed to work at the resolutions of smartphone screens. An immediate drawback: you're only given ten opportunities to use Manymo per month when you're using the free version. If you want to extend that, the emulator requires a paid subscription, which may be a dealbreaker for some. Still, if you are limited in your ability to install software on a computer, or you find yourself switching between machines on a regular basis, this may be the best option for you!
No matter which emulator you choose, the setup is designed to be an easy process. Simply download the software (unless you're using Manymo, in which case you'll hang out in your browser), and go through the installation process to get it up and running. All of these programs are designed to be unintrusive and lightweight. Once your software is installed, go ahead and boot up your emulator.
You'll be greeted by a screen that looks remarkably like an Android home screen on an actual Android device. Mostly, this is an easy way to think of your emulator: your own personal Android device that exists in digital space. As long as your installation has gone smoothly, it's time to get access to Snapchat!
Snapchat for Your Windows PC
As promised, the only third-party resource you'll need to visit in this whole process is an Android emulator–you've already accomplished that part! Now, it's time to head into the Google Play store and find Snapchat. If you're already used to the way that Android OS works, the rest of this is going to be extremely familiar to you.
Simply search for "Snapchat" within the app store and download the penultimate goal of this whole guide! It really is that simple. You can also find the Snapchat .apk (application) file online if you'd like to, but I highly recommend sourcing all of your emulated Android apps legitimately through the Google Play store. You'll always know that you're getting your apps from a reliable source, and you won't have to worry about accompanying malware or viruses, as can so often be the case with separately sourced .apk files.
Once you've finished downloading the Snapchat app, getting signed in is a cinch. If you already have a Snapchat profile, simply enter your user information and get access to the same feeds, snaps, and other resources that you'd find on your mobile device. If you don't already have a Snapchat profile, then you have one step left–get signed up for the app through your mobile device! Though you could certainly wrangle the signup process from within your emulated, Windows PC version of the app, you'll save yourself potential struggle by just doing it through your smartphone.
After that, you can get right back into digesting the wealth of media and updates from your various Snapchatter contacts! All of your favorite features will be readily available on your Windows PC, from the contact rankings and emoji to the fast and accessible chat system that keeps you connected with your friends. Depending on what resolution your emulator is running at, you may encounter some awkward window stretching and resizing difficulties, but this is to be expected when you're running an app that's meant for smartphones! Regardless of these minor quibbles, the emulated version of Snapchat will work wonderfully, and as long as you sourced it through the Google Play store, you'll have access to the same updates to the app that smartphone users are enjoying.
Feel free to chime in through the comments below and let us know how we did! Overall, the emulations process is a simple one that can give you access to a wealth of otherwise limited apps available only to Android users. Since emulation software is typically so lightweight, a wide variety of Windows operating systems can handle the limited demands it makes on your computer's resources. Windows XP, 7, 8, and 10 are all plentifully capable of flexing enough muscle to tackle an emulation program. When you can download said software free on your PC, and have such limitless access to Snapchat, what's stopping you?