One can hardly imagine that the Snapchat team didn't realize they'd struck gold when they decided to implement the "face swap" feature in their popular Snapchat iOS and Android app. Purporting to be only a fun tool that allows people to swap faces, we've instead ended up with a landmark online trend of epic fails–dog swaps, baby swaps, and other fantastic mishaps that are still circulating popular corners of the web.
Today, Snapchat hardly resembles the simple image and video-based social media app that it started out as. The features that have built upon it, however, had enriched the Snapchat experience so thoroughly that it's able to compete with other dedicated messaging apps at the same time that it can almost compete with online games. Snapchat is useful but just as much as that, it's fun. While the foundation of the Snapchat experience remains the same–you build a list of contacts and send them tailored media from your daily life–the wealth of additions and upgrades that are now standard fare have turned it into a machine of creative expression. Now, smartphone-packing people aren't just amateur photographers; they're social media managers and designers, too, using Snapchat's lenses, filters, and stickers to create works of entertainment art.
Lenses, in particular, have garnered quite a lot of attention since they were first added in the latter half of 2015. They began as a paid feature; Snapchatters would have access to a static set of simple lenses, and then pay a small price for each one that they wanted to add to their inventory via a "Lens Shop." The app's lenses use simple facial recognition in order to morph and augment your lovely mug into a caricature. Puke rainbows, get zombified, or more recently, spew strawberries like a waterfall. They're wild, they're always changing, and Snapchatters can't get enough of them.
The lens store closed up shop, however, and was instead replaced by a constantly cycling roulette of lenses that are free for users to apply to their Snaps as they'd like. Occasionally, lenses depart the roulette to make room for the new ones, with the promise that old favorites will make an appearance again. Rather than costing Snapchat users a single cent, all lenses are now free, and the monetization has turned towards larger companies and businesses that want to pay for the occasional "sponsored" lens that the app's users can apply to their Snaps.
Then, we arrived at "Face Swaps." This outwardly harmless little lens uses the same facial detection feature to find two faces within the viewfinder frame of your device's camera and "swap" them. It was touted as something that friends could use in their selfies and Snaps, but it only took a New York minute for Snapchatters to figure out that the facial detection could be pretty easily fooled. Anything that's vaguely face-shaped can be mistaken as a face, which led people to swap with everything from dogs to kitchen sinks.
Below, we'll have a look at some of the most remarkable face swaps; Snaps that will leave you either in stitches or wholly confused.
Face Swaps
Before we're through with this little demonstration, you're going to want to know how to do face swaps. While some of what's to follow are not for the faint of heart (you might laugh too hard; I did warn you!), you're going to need to be able to test it out on your own.
Thankfully, face swaps are applied in the same exact way that other Snapchat lenses are applied. The process is the same whether you're using an iOS or Android device. Before you shoot a photo, press on the center of your screen until the facial recognition turns on. As soon as it has, simply swipe through the various lenses until you arrive at one that has two little circles for two little faces.
Next, you'll need to apply the faces. For such a simple, singular feature, the detection is pretty good; it's just not good enough to tell what's an actual, human face, or what might be a pet face, or something vaguely face-shaped. You'll want to use your device's front-facing camera, in the same way, that you'd take a selfie. Simply line two faces up until the indicators go yellow, and you're ready to Snap a swap!
The effect will be applied as soon as you shoot the photo. Whether that's to your joy or horror is up to the subject of your little Snapchat photography venture, so go wild!
Dog Swaps
I think we've all heard of people who keep pets that look remarkably like themselves. Snapchat doesn't care about that. Snapchat is without judgment, and if your faithful, furry best friend has anything resembling a face, Snapchat will indiscriminately swap your face with theirs.
Woof. We might  not ever know why the pooch's schnoz ended up between its owner's lips. We might stop wondering altogether after a few seconds spent staring at this terrifying amalgamation of man and man's best friend. Aren't dogs' eyes supposed to be full of love and affection? What happened?
If John Carpenter is looking to cook up any terrifying new screenplays, I think he'd probably do well to turn his eyes to Snapchat for inspiration.
I'm not sure which face between this pair looks more unsettled. In fact, how do I even refer to them–by face or body? Dog-face looks rather complacent, maybe pleased at having earned a pretty new do thanks to the magic of Snapchat. Owner-face, on the other hand, is consumed by the abject horror of being trapped in a dog's body.
Let's not contemplate it for too long; let's just be thankful that such terror is confined to the digital prison of Snapchat and smartphone screens.
Fail Swaps?
I'm not sure if it gets better or worse as you move away from pets and into…inanimate objects. You can be the judge of that, but I will say this–I never realized that our lives are so saturated with face-shaped surroundings. You might never look at your food or your fixtures in the same way again.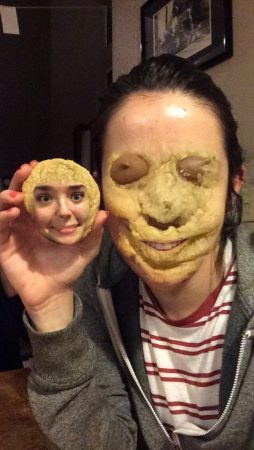 One of these things is not like the other. While I certainly had an odd childhood, I do recall sitting and watching Sesame Street on an old television. This is not the cookie monster that I remember!
I recall an old adage that goes along the lines of, "You are what you eat," but I'm not certain that this is what anyone had in mind. This isn't what anyone ever should have in mind.
Food that puts a smile on your face. Let's forget the old adage that I repeated above; we know that it applies here, too, but even worse is the vacant space left behind when this poor lad's face got transplanted onto the nearby countertop. I'm thankful that the plastic cup and the chocolate milk were spared from Snapchat's wrath, but those perfectly placed tangerines and the smirking curve of banana were just too tempting to leave behind.
If robots and artificial intelligence ever conquer humanity, let's not look back on face swap as the critical moment of negligence.
Okay, so I just couldn't stay away from pets. Look at that endearing smile, though! The appealing curve of the porcine  snout and those little eyes that lead straight to the heart.
The heart of darkness, maybe! The only thing more unsettling than this collection of misplaced features is the fact that they both seem pretty pleased with how it turned out. Whether or not we're pleased, I'll once again leave up to you.
Father? Can you hear me, father? Are we home on the range? The next time that you decide to face swap, ensure that you safely cover anything that even remotely face-shaped in your immediate area, lest your children are placed in harm's way. While baby peers at us from the background, stove face's eyes are ready to turn up to high heat.
If this collection hasn't traumatized you for life (in fact, I hope that it's had the opposite effect), then all you need to do to partake is install Snapchat on your Android or iOS device, and start playing around with the app's lenses. Much of the joy of face swapping has little to do with swapping faces with friends, and everything to do with seeing how you can fool the facial recognition into creating something truly hilarious for you.
Following the direction of the internet's fascination, this is one of the best little features that Snapchat has ever added to its repertoire. On top of lenses already being a runaway hit (just search for "puking rainbow"), this was just a fantastical–if somewhat terrifying–icing on the cake. Whether you're using on Android or iOS, Snapchat's face swap can become so much more than that–dog swap, oven swap, fail swap, fruit swap, and onward from there. After you've given this feature a good workout, chime in and let us know what some of your favorite results are by speaking up in the comments below.