Pokemon Go, by Niantic, is a worldwide sensation that has made waves across the entire world. Pokemon fans, phone game fans, and many who have heard all the hype are out there catching Pokemon, battling gyms, and choosing a team to pledge their allegiance to. Whether you are a fan who has been leveling up your Pikachu from day one or are just now getting around to download it, chances are a few questions have popped up. That's why we're bringing you a list of Pokemon Go commonly asked questions, so you can find answers quickly and get back out there with your favorite pocket monster at your side.
How do I get started?
Getting started is easy! You simply download the game on your phone and open it up. There are two ways to get into the game. The first, and simplest is to use an existing Google account. If you prefer not to use a Google account, you can sign up for a Pokemon Trainer Club account. By doing this, you get an alternate way to log in, as well as a sweet subscription to a monthly newsletter. Either way, logging in is easy, and then you're off to the races.
Can I customize my trainer?
You can! You may choose a name, but it cannot be the same as someone else's. Many of the rarer names will be gone but as long as you come up with something with letters and numbers and nobody else has used it, there you go. You also get to choose customization options allowing you to pick hair color, outfit, and skin tone. But don't worry too much about this, in the beginning, you can go in later and change things up.
What Pokemon do I start with?
You'll go through a bit of a storyline before Professor Willow teaches you to catch a Pokemon. Three different Pokemon are available initially. You can choose from a Bulbasaur, Charmander, or a Squirtle. You will battle it and end up with your first trusty Pokemon buddy moments later. And don't worry, the fight is easy, and you'll have help along the way.
That said, if you want a Pikachu, you can make it your first instead. This requires more effort and can be a pain. However, if you want to start with a Pikachu, there's a guide to that here.
How do I get more Pokemon?
Good question, of course, you want to catch them all! This is a pretty simple thing to do but isn't very well explained initially. As you walk around the world, you'll sometimes see tufts of grass on the landscape on your screen. There's also a meter on the lower right that shows which Pokemon are nearby. Where they are, however, is up to you to figure out.
Once you find a Pokemon, you click on it to start a battle. This is a bit different from the traditional Pokemon games. The Pokemon will pop up on screen, and you toss a Poke Ball at them. A ring will surround them which changes size and color depending on difficulty. Some Pokemon may take better aim or even stronger balls, which you'll get as you level up.
What items help in catching and training?
Pokemon has a number of impressive items available for helping in your quest to be the most Poke Master out there. There are some different types of Poke Balls and potions to heal up your pets. But you can also acquire things such as incense, which makes more Pokemon pop up in your area. There are also Lucky Eggs which give you double XP for thirty minutes, an incubator that helps you hatch eggs you find in the wild, and a lure module that makes more Pokemon show up for anyone in the area for thirty minutes.
Many of these items you'll get for leveling, but you can get more from the in game store for cold hard cash. However, there's no requirement for buying them. The store is simply an easy way to fill up supplies if you prefer spending money rather than time on getting cool items for your adventures.
What is a Poke Stop?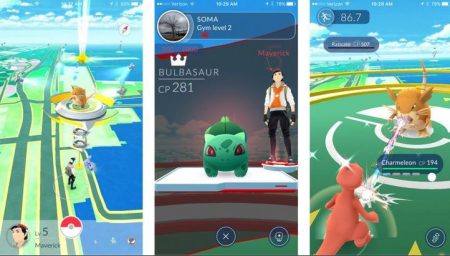 Poke Stops are pure awesome. As you walk around the world, you will occasionally see a blue marker on the map. When you click on it you'll get a picture of a monument, park, or building. If you're near that market, you can swipe the image and for doing so, you get free items! This is usually some Poke Balls, an egg, or potions. You can find these stops pretty quickly, but if you need some help, there are maps on the internet that show many of the locations.
Another thing to mention is that Poke Stops can be great spots to find Pokemon as well. If you find one with a swirling pink look, it has a lure. That means many Pokemon are liable to spawn there, for everyone who waits. It's always worth waiting a few minutes to pick up a new Pokemon or two.
What are gyms?
Gyms are very common, although they appear less often than Poke Stops. You need to be level five to face the trainers in a gym, but in general, the battles are one on one against another team. Battles are decided in various ways, but type, combat power, and moves all relate to it. You attack by tapping a Pokemon, and you swipe to dodge. Also, by long tapping when you have a super power, you can toss out a very dangerous move to kick some butt.
All these tips are tried and true from other Poke Masters out there in the world. Our compilation of Pokemon Go commonly asked questions will give you a heads up on the competition, especially if you are new to the game. So get that download started and head into the wild world. There are Pokemon out there, waiting to be tamed.