Nothing screams entertainment like a well-stocked buffet of streaming video services, and who gets to provide that in our digital era is constantly in flux. Mobdro is a recent contender in the streaming accessibility department, and it's often pursued by people on every major computing platform–Windows PCs, Macs, Apple iPhones and iPads, as well as Android devices. However, you're only going to be able to use it on certain of those operating systems, and each of them is going to require a little bit more legwork than your typical app. Curious? Read on!
It's not even particularly arguable anymore that streaming media is the most popular way to consume content right now. Blu-ray disc is still a hit and 4k television technology can certainly let our high-definition content look great, but the most reliable way to access movies and television shows is through a good video streaming service. This well-known fact has led us to a rather competitive marketplace, with various streaming services each trying to get the leg up on the other by offering things that the others aren't, in ways that they aren't.
If you're a consumer, your position is right, smack dab in the middle of this competitive marketplace, and boy can it ever be a confusing place to be. It can be pretty frustrating, too, especially when you're forced to subscribe to multiple streaming services just to get all of the shows and movies that you want to watch.
As ever, frustration breeds solutions, and so we've arrived at a little application called Mobdro. After gaining some popularity and momentum online, the app's name has become somewhat widely known (that's how you ended up at this guide, right?), but it's not necessarily the easiest app to get ahold of. You won't be finding it on the Windows app store, Google Play, or on any of Apple's outlets, which leaves many users thinking that perhaps, just maybe, Mobdro is something of a myth.
There's a reason for this, too, which we'll dive into a little bit later in this guide. For now, it suffices to say that Mobdro enables activity that most major app stores don't exactly approve of, even though it doesn't need to be used that way. We'll cast away the curtain of mystery surrounding the state of this app, however, and show you how to get it up and running along the way.
How Does Mobdro work?
The first thing you'll want to realize is that Mobdro is not a streaming service. Contrary to how many users talk about it, you won't be streaming anything through Mobdro, and Mobdro doesn't offer any particular type of content (or content of any kind). Instead, Mobdro works by connecting you to streaming services that are offering free content, with extra emphasis on the free. It's intended to suss out ways for you to get the media that you want to consume, without having to pay a dime.
Additionally, it works with the popular streaming hardware Chromecast, which allows you to bring the media that you're viewing on your computer or Android device to the larger screen of your television.
As long as we're on the subject, let's get a simple warning out of the way: there's a reason that Mobdro isn't available on popular app stores, and that's because it opens the door for users to engage in copyright infringement and illegal downloading. This topic is a dead horse by now, but it's no less relevant than in the late 90s when streaming services were in hot water for allowing users to freely download music and movies that they'd otherwise have to pay for. An easy rule of thumb is this: If you're not paying for it, and it usually has a price tag, it's probably not legal to download it.
However, not all streaming media online has a price tag, and since there's actually a huge amount that's free to watch anyway, Mobdro remains a pretty good app to have on hand, especially if you want to bring that content to your television screen using Chromecast.
In spite of it not being available on app stores, Mobdro is legal. You can download it, install it, and use it, but using it to illegally stream or download copyrighted media can potentially land you in trouble. This is worth a little bit of extra awareness on your part before proceeding. With that out of the way, we can talk about just how handy Mobdro is. With this app, you can:
Search out free streams to watch on the device of your choice.
Download streaming video, to watch offline at any time. (Premium only!)
Share your finds with friends.
Bookmark and catalog content so that you can return to it at any time.
There are two different versions of Mobdro, separated by whether or not you're willing to pay to get rid of a little advertising. The ad-supported version of Mobdro is free, while the premium version, sans ads and plus download support, is going to cost you a small subscription fee.
Mobdro on Android
Since Mobdro was developed as an Android app, we can tackle this installation option first. Since Mobdro isn't coming from the Google Play store, you're going to have to enable the ability to use apps from unknown sources on your device.
Open your Android device's Settings menu and tap on Security.
Find Unknown Sources in your security listings and toggle it on.
After that, you'll need to download the app, which is better done from your mobile device. (If you're planning on installing this on your PC or Mac, just keep on reading!) The Mobdro website has the download link right on the landing page, and clicking it will download the .apk (application) file onto your Android device.
For the final step, find the download listing on your device's notification screen, give it a tap, and then approve Mobdro's access requirements. After that's done, the app will install on your device and you'll be good to go!
Mobdro on Windows and Mac
As of right now, there is no native Windows version of Mobdro, and nor is there one available for Mac computers. For these two operating systems, we're going to have to download an Android emulator, which will allow us to use the Android application. If emulations is a new term for you, it can be summed up like this: an emulator uses your computer's resources to simulate a different operating system, effectively tricking your computer into behaving like a different device.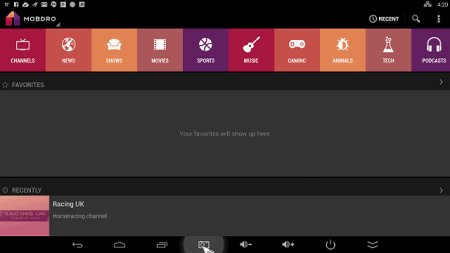 There are quite a few emulators that can get this job done for you, but I'll share two of my favorites. They're both free (though one has a premium version) and they're both exceptionally easy to install, so you can carry on with Mobdro that much quicker.
Bluestacks is definitely the most often-mentioned emulation software amongst the Android proficient, and probably for good reason. It has a professional-level presentation and the development team that designed it has created an app that accurately reflects the same aesthetic of Google's Android OS, itself. Bluestacks is heavily marketed towards gamers, but don't let that stop you; it's an exceptional piece of software that can handle any Android app you throw at it. The free version will work fine, but if you want to ditch third-party ad software support, you'll need to get on board with a $2 per month "premium" subscription fee.
Andyroid is my favorite Android emulator, in spite of Bluestacks being a more popular choice. Andy is just as accessible to download but boasts a more minimalistic aesthetic and the "Handy Andy" toolbar launcher that makes it fast and efficient in Windows. It's also free, and from my experience, less intrusive to your app experience than most of its competition.
Once you've downloaded and installed your emulator of choice, you'll be running an official instance of the Android OS. What this means is that you can treat it exactly like you might an Android device, which means following the above steps for getting Mobdro installed on Android. Once you do, all of that functionality will be available on your Windows PC or Mac, including Chromecast support!
Mobdro on iOS
Unfortunately, iOS users are still somewhat out in the cold. Due to Apple's proprietary software and hardware management, sideloading an app onto an iOS device isn't possible without a jailbreak, which isn't something that I advise. Meanwhile, there's almost zero chance that we're going to see Mobdro on Apple's app store due to the types of activity that the app can be used to engage in.
Therefore, the best option for iOS users is to actually use Mobdro from their Windows PC or Mac, in the meantime. Considering that Android emulation extremely accessible and possible across a wide range of hardware, it remains the best bet!
While I will always urge users to be cautious when using software that promises "free" video content, that doesn't make Mobdro any less worth your time. If you're looking for a good way to consolidate your free video into a single app that can Chromecast it to your TV, you'll be hard pressed to find a better-developed little piece of software. Though Apple iOS users are still mostly out luck, those on Windows PC and Android can be up and running with Mobdro in a matter of minutes!