Like dominos tipping down the line, celebrities keep joining Snapchat in order to have better access to their fans and followers. If you've been hopping mad to get Kim Kardashian amongst the pics and video of your Snapchat feed, your luck has finally surfaced!
It's a visible trend, isn't it? More people get on board with Snapchat as a hub for social media activity every day, and as the popularity of the app increases, so too does the celebrity presence on it. More than a hundred well-known musicians, actors, artists, and other public figures have signed up with Snapchat to better engage with those who follow them on a daily basis.
To their credit, it's an enticing prospect. The app is free, its use is free, and the only type of "sponsored" Snapchatting that goes on is aimed at corporate interests and large businesses. For social media-savvy celebrities, it's another stellar avenue by which to promote themselves which actually comes at little cost to their own privacy or time. Snaps only take a few seconds to put together, and unlike the posts, pictures, and videos on other social media platforms, Snapchat's shared media is only meant to last a few seconds; Snaps don't linger for reference, so much as they appear, impress, and then disappear forever.
The "Replay" feature allows you to save a Snap for a little bit longer, of course, but the longest you're going to hang onto any of them is 24 hours. Without that monetized feature of the app, you're down to 3 to 10 seconds to see a Snap and digest its content.
It's part of Snapchat's inherent appeal, and it has been since the app launched. By circumstance of its style, it's also perfectly tailored to fast-moving celebrity lives and the attention spans of their rabid packs of fans that wait eagerly for the next word or promotion from their favorite personalities.
Unless you've been living under a rock, you'll know that Kim Kardashian (really, the whole Kardashian family) has maintained a near-constant presence at the center of the celebrity spotlight. Whether you've been following her from the beginning of her popularity or picked up your interest when she joined her own talents with music mogul Kanye West by way of marriage, it's almost impossible to escape news or knowledge of Kim K's current goings-on.
If you're an avid Snapchatter, you just gained one more avenue by which to follow her.
In our guide, we'll show you how to find Kim Kardashian's username and Snapcode, and also give you a quick little run-down of how to use that information to follow her on Snapchat. It's an easy, intuitive process, but a helping hand never hurt anyone, and that's exactly what we're here to give you.
How Do I Find Celebrities on Snapchat?
Here's the thing, and it's where quite a few users get lost–you won't be finding them on Snapchat.
Instead, you'll be finding access to Snapchatting celebrities through other social media avenues, most of the time. It works like this: Snapchat is an excellent way to connect with other people and promote yourself, but primarily only for other people that are on your friends list. Since Snaps don't linger longer than a few seconds, you're never going to be left with much media to refer people to your Snapchat presence.
Rather than using Snapchat to gain new followers, celebrities typically announce their Snapchat information through other social media feeds. Popular celebrities usually generate a significant amount of buzz when they do this, which means that Kim Kardashian's Snapchat information is going to be exceptionally easy to find!
Finding Kim Kardashian
Take to a web browser to proceed; it doesn't matter which browser you use, or whether you're using a desktop computer, laptop, or even the mobile device that plays host to your Snapchat experience. We're only going to spend a short amount of time, here.
(I could just give you her Snapchat username, but that wouldn't do much to help you find other celebrities, would it? Remember that old adage about "teaching your blog's readership how to fish," right?)
Open up your web browser, and enter a simple search query: "Kim Kardashian Snapchat username." Additionally, if you already follow her on Twitter or elsewhere, you might find the information you're looking for there. What your search results are oh, so eager to tell you is that Kim K only joined Snapchat recently, on March 9th, and kept her username relatively straightforward.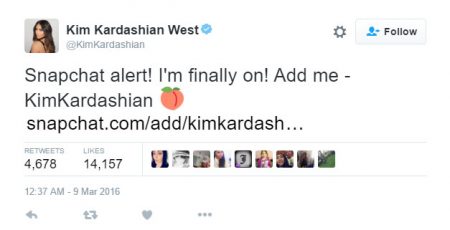 That's right. "KimKardashian" is a fairly simple username to remember, but don't get on my case too  much for not giving it to you outright. You've learned just how easy it is to dig up celebrity Snapchat information through this process.
Additionally, you might have happened upon a resource that had Kim K's Snapcode. These are a trendy, fun, image-based way to promote your Snapchat presence that's available to anyone. Celebrities like to use it since it gives their followers a simple way to add them to the popular app.
You can even use your device's camera to scan the image above. You'll get the same result as typing in Kim Kardashian's username, which is also prominently featured on the Snapcode.
Adding Kim K to my Snapchat
You've made it this far, and you now have the necessary information to get Kim Kardashian added to your Snapchat feed. If you've ever added a friend or contact on Snapchat before, then you're already going to be familiar with the process, below. You might even have already finished, but I'm going to lay out some simple directions anyway. If you're new to the Snapchat experience and are only joining to begin following your favorite celebrities, this is for you.
Start from the main Snapchat window and click on the ghost silhouette at the top. This will bring you to the main Snapchat menu, where your own Snapcode will be featured front and center. We're going to tap, "Add Friends." After, you'll be presented with all of the different ways that you can add contacts in the app.
The two obvious ones are "Add by Username" and "Add by Snapcode," being that we already spent time hunting one or both of these things down. If you choose "Add by Username," you can simply type in Kim K's username. Voila!
If you'd prefer to add by Snapcode (because it's trendy and cool, don't lie), then your device's camera will activate and you'll be able to scan the image. Either method is going to get you to following Kim Kardashian on Snapchat. Success!
Following Celebrities on Snapchat
Kim K has been successful in quite a few areas, such that her name is practically its own brand, anymore. If you're following her on Snapchat, look forward to all of the coming announcements about her activities, personal progress, and Snaps from her daily life. Moreso even than Twitter or Instagram, Snapchat gives people a means to share moments from their own experience, without worry that those moments are going to linger forever in social media feeds.
It's just as liberating of an experience for celebrities as it is for everyone else.
In fact, the potential to glean insider knowledge about what your favorite celebrities are up to is the reason that most people follow popular personalities in the first place. Musicians preview songs and music videos, actors give behind-the-scenes glimpses at their latest projects, and when they're not giving you details from their professional lives, you'll be given a few seconds of access to their personal lives.
Of course, just because you're following a celebrity on Snapchat doesn't mean you've received instant-entitlement to communicate with them directly. You'll likely have just as much luck speaking to your favorite celebrity here as you would on other social media platforms, but having said that, the other perks to it make it more than worthwhile, for most.
Other Celebrities to Follow
In case you had any doubt that a host of other celebrities are already on Snapchat, waiting for you to find them, here are a few other names to check out:
Kylie Jenner: @KylizzleMyNizzl
Justin Bieber: @RicktheSizzler
Rihanna: @rihanna
Demi Lovato: @theddlovato
Jared Leto: @JaredLeto
Ellen Degeneres: @Ellen
It's a healthy helping to get you started, but do know that there are hundreds of celebrities for you to find on Snapchat. Using the above method, just pop into your search engine and drop some useful keywords; if the person you're searching for has seen the spotlight, it's not going to be difficult for you to find them.
To say that Snapchat's popularity is still booming is something of an understatement. While the core function and features of the app haven't changed since its inception, Snapchat has added several features and upgrades that have made it far, far more than a simple image messaging service. Though it's an entirely different sort of social media beast, it's ready to compete on the direct lines with such names as Facebook Messenger and WhatsApp; if you were waiting to get on board, then the time for waiting has passed.
The above guide has given you fast access to Kim Kardashian's Snapchat name, as well as the photos and videos that she's sharing there with her followers. Tell us about your celebrity Snapchat experiences in the comments below.