You don't need to be an app-a-holic to know that the communications and messaging fields are pretty crowded places to be, these days. Many users long for simplicity amidst a sea of bloated features and gaudy advertising, and for them, imo Messenger is one of the most minimalistic–yet effective–communications apps available; we'll show you how to go above and beyond, so you can additionally access imo from your Windows and Mac computers whether you're on a laptop or desktop. Cross-functionality is important for productivity, and one of the best ways to be productive is to share your communications between all of the devices that you spend your time on.
The imo Messenger app has been on quite a journey, since its inception. "Cross-functionality" used to be its namesake, and it was once able to host messaging through several popular, separate messaging services. Alas, that functionality hasn't remained throughout the years of the app's existence but the elimination of that thoroughly valuable feature has not taken imo off the map.
Instead, imo Messenger has kept on with the thematic and aesthetic presentation that it always provided, while doubling down on the features that productive, busy smartphone users could make the best use of: calling and messaging, at the peak of their innovation today. Rather than being a multifaceted conduit between other messaging platforms like it once was, imo now hosts text messaging, as well as audio and video calling that's available to users that download the app. To boot, imo is free, which makes it an extremely tempting choice for people that just want to get away from all of the flash and busyness of apps like Facebook Messenger and Snapchat.
It still has functionality across multiple platforms, which is another of imo's saving graces. However, while Android, iOS, and Windows PC users will have an easy time gaining access to it, Mac users will have one extra hoop to jump through. Rest assured that it isn't a particularly involved or difficult hoop and that with this handy guide, you can have the same, full access to imo on your laptop and desktop as you can get on your smartphone.
imo Messenger – The Basics
When examined apart from apps such as Snapchat, Facebook Messenger, or Kik, text messaging on mobile devices is a fairly barebones concept and it's this simplicity in form and function that imo has always capitalized on. This makes it appealing to people that are looking to shed the complexity and feature bloat that exists in other free messaging apps, no matter how good they are at the actual messaging functions.
When it comes to those basic features, imo is a champ. The recent addition of video calling to the already stellar messaging and audio calling has kept it relevant, even as its competitors struggle to both innovate and entertain their younger user bases.
imo also benefits from being extremely accessible, to the point that signup is as simple as visiting either the imo website or your preferred platforms app store.
imo Messenger for Windows
Getting imo Messenger set up on Windows is a decidedly simpler task than it is for Mac, but this is only because of it requiring a few quick clicks. There are two methods by which you can do it, but both are going to take you to the same place.
If you're running Windows 8 or Windows 10, you can search for imo Messenger within the Windows store. This will bring you right to the free app download for the Windows operating system, which can be installed with only a single click.
Alternatively, you can go to the imo Messenger website, where download links wait for all of imo's supported platforms. The link to the Windows store will bring you to the same place as above, but it's a handy way to access it if you're already using a web browser.
Once you've installed imo Messenger, you'll be required to enter your phone number. As of now, there's no way to circumvent this requirement, and it also exists on the mobile imo Messenger app. Unlike others that will tie your contacts to an username or email address, imo will always use your mobile device's contacts as the basis for your contacts within the app itself.
If you already have imo on a mobile device (which I would highly recommend, before installing it on a desktop or laptop computer), then signing in via the Windows app will give you access to your list of already established contacts.
Once you're signed into imo, you'll have access to all of the app's noteworthy features: video and audio calling, as well as lightning-quick messaging services.
imo Messenger for Mac
Accessing imo on your Mac or Macbook is going to require a couple of extra steps, as said above. Since there's no native application for Mac (even though one exists for iOS–get on it, Apple!), we'll have to rely on emulation in order to accomplish what we want. This will involve downloading third-party software that will allow you to run Android applications on your Mac.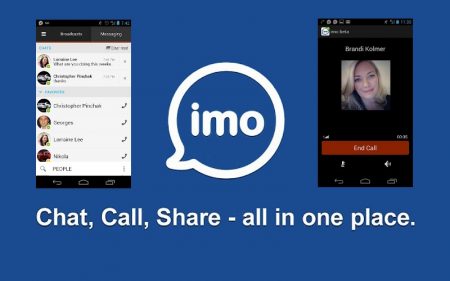 "Why Android?" you might ask. As it stands, Apple has a tight, proprietary reign on what platforms its software is allowed to run on, and so far, that has extended to iTunes and the QuickTime Player applications. Apart from those, Apple software–including iOS and all of the apps that run on it–can not be reliably installed on anything other than Apple devices.
Hence, we turn to the Android operating system, which is much more flexible in how it can be used. In the following several steps, we'll:
Find a top-notch Android emulator.
Download the Android version of imo Messenger.
Get you signed into imo, the same as you would on any other device.
Thankfully, there's nothing illegitimate or illegal about using an emulator to get imo on your Mac. You'll be running an official installation of the Android operating system, and an equally official version of the imo Messenger application.
Emulator Recommendations
It can be easy to get lost in the surprisingly large number of Android emulators available online, so I'll keep my list of recommendations to three of the most reputable. It's a happy coincidence that they can each be used free, too.
Andyroid: Though this isn't the most popular emulator (that accolade falls upon my next recommendation), it's my favorite of the bunch. Simple, minimalistic, and easy to install, Andyroid runs well on Macs as well as Windows computers.
Bluestacks: Marketed primarily towards gamers, Bluestacks is nevertheless a top-notch Android emulator that's usually the first recommended to people that are looking to access Android apps on other platforms. The free version relies upon third-party software advertising, but a meager $2 per month premium fee will eliminate all advertising from the app.
Manymo: This application is browser-based, meaning that you won't need to install anything on your computer to use it. You will, however, have to download the imo Messenger .apk (application file), but this can be done from the Google Play store–where we'll shortly end up, anyway! Manymo online allows you 10 free, limited-duration uses per month, which might be acceptable to casual users. If you want to extend its usefulness beyond that, a monthly subscription is necessary.
Make sure to select the emulator that best suits your needs, but don't lose sleep over it. Bluestacks and Andyroid are among the very best downloadable options while Manymo remains the only browser-based Android emulator that's worth your time.
Once you've installed the emulator, we can get imo running on your Mac.
Installing imo Messenger
The installation process is a little nontraditional, but only if you've never used an Android device. From within your emulator, open up the Google Play app store and simply search for imo Messenger. There's only going to be one listing of the app, and since it's entirely free, you can install it from within the emulator with only a single click.
As with all other versions of imo, you'll need your mobile device number to get it up and running–this will be the foundation of your imo profile, after all. However, once you've installed it through your emulator, you'll have the same kind of access to imo as you'd normally have on an Android device. Since the best emulators on the market can take advantage of your computer's microphone, camera, and other hardware, this means that web-based calls and messages are now all accessible from your Mac. However, it also means that you'll need to use your emulator every time that you'd like to use imo. This will only change when Apple gets a Mac-based version of the imo client that can run natively without requiring emulation.
Following the steps of the above guide, you should have no trouble getting imo up and running on your Windows PC or Mac, regardless of whether you're using a laptop or a desktop computer. If you run into any problems, have any questions, or simply enjoyed the above guide, let us know in the comments below!