Looking for Unison League alternatives can be difficult because few seem to live up to it. A worthy alternative needs to have daily quests and events, customer characterization, great gameplay, excellent graphics, an addicting soundtrack, and something extra that makes it fun enough to play for hours every day.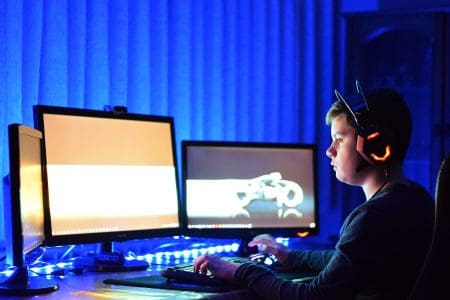 It can be hard to find apps like Unison League, but not impossible.
Now, it can be difficult to find games like Unison League that are updated anymore. That's why we tried to find games that still have active users and developers. Even so, there are some good older games out there as well.
7 Games Similar to Unison League
When looking for games similar to Unison League, you have to play a lot of really bad games. These are games that are comparable to Unison League but still feel different and unique enough that you will play them for a long time. We've played every one, looked through comments, and compiled a list of alternatives.
1 – Dragomon Hunter
This anime-styled MMORPG feels a bit like Pokemon and a bit like Unison League. It is available on different platforms, including PC. If you like to go through games quickly, this one might not be the best choice for you. Instead of rushing, you will have to slow down, complete quests, find monsters, and just enjoy. There is a lot to enjoy here, however – a great soundtrack, beautiful graphics, and adorable animals.
Pros: Amazing graphics; adorable characters; and a really addicting soundtrack
Cons: You have to go at the pace of the game; may feel a bit childish to some
2 – Dragon Marked For Death
Best of the apps like Unison League
Dragon Marked For Death is a 2D RPG game with side-scrolling. You can play it by yourself or with up to four other players online or in person. You play as a survivor of a group that has gone through quite a bit (what happened gets revealed throughout the game). You need to gain back your power and take quests from villagers to get back to who you once were.
The quests vary from defeating enemies to guarding ships and finding food. This makes gameplay feel a bit more varied and makes the game more addictive. You can team up with friends to play or go solo – there are different tasks and quests for whatever way you play.
Pros: Amazing graphics; great gameplay; extremely addicting
Cons: Some of the group games aren't as interesting as the solo games
3 – God Eater 3
A darker Unison League alternative
Oracle Cells have formed and they want to take over the earth. You need to act as the hero in God Eater 3. The creatures you battle are ravenous, evil, and stop at nothing. There's one problem: they don't die easily. You need to craft or find new weapons in order to take on your enemy. The problem? Everytime you aren't successful, they get stronger.
Create your own character, fight for survival, and build weapons. The battles are quick and then you have to prepare for the next one, which comes just as quickly.
Pros: Extremely fast gameplay
Cons: Sometimes the game glitches and shuts down
4 – Oriental Blue
One of the most unique games you'll find
Oriental Blue is an RPG game based on the Far East of Eden series. This is one of the more unique games on the list because there are different storylines. It all depends on the twists and turns that you take – you aren't moving toward a linear end. This has good and bad aspects. You will play as either Tenran or Aoi (the first decision you will make) and go on a journey to defeat ancient evil monsters. You choose where you go, how you go, and who you defeat. This can change the storyline and certain battles. If you lose, you just go somewhere else in the story. While this is sometimes confusing, it makes the game that much more fun.
You will get a world tour of Asia, including China, Mongolia, and Japan.
Pros: Extremely fun to play; great non-linear storyline
Cons: This is a bigger app that takes up a lot of space
5 – Soulworker
One of the most beautiful games
Soulworker is one of the most beautiful MMORPG games. It takes place in an area called Cloudrealm, which is a vacant city that has some pretty scary and dark secrets. Players need to move throughout the city and find out its secrets while avoiding disappearing themselves.
The game was developed by Lion Games Studios in South Korea, so you should expect that style. There are supernatural elements, psychics, special powers, and more to keep you busy.
Pros: Fun to play, open world style; great supernatural elements
Cons: Some spambots in open forums
6 – Twin Saga
Twin Saga is an immersive book that is exciting and challenging. You play in a world that has been thrown into torment because twin goddesses have started warring with each other for power over the world. You need to play as a citizen and fight for yourself, your friends, and people you don't know. There are great characters (some of whom won't help you) and amazing graphics.
Twin Sage is an MMO game, so you will have to deal with some of the problems that come with that. If you stick to yourself and don't antagonize anyone, you should be fine.
Pros: Great storyline, good graphics
Cons: MMO brings about spam and some not-so-nice people
7 – White Cat Project
A controversial game, but worth a play
White Cat Project has a bit of infamy because it is part of an on-going lawsuit with Nintendo. Even so, this is a great game that many people fall in love with as soon as they play it. The plot of White Cat Project is one of the most intricate, detailed plots you will find in mobile gaming. Even so, it is easy to understand. You just have to expect twists and turns.
White Cat Project is an action role play game where you use your fingers to direct to the character. You have to attack, confuse, and use special skills to fight different characters. You have weapons to use, but you will have to earn them. Even so, make sure you choose smartly at the start so you get a good weapon to begin.
Pros: Great classic graphics; fun to play
Cons: Allegedly copied Nintendo properties; isn't updated regularly anymore
It can be difficult to find games like Unison League that bring in elements of storytelling, gameplay, strategy, and more. Even so, the games mentioned above can fill in the gap pretty well. You may need to play some of these games for some time before you get addicted to them, but stick with them. People tend to be too quick to move onto something else.