Need help keeping track of schedules? There's an app for that. Looking to get better sleep? There's an app for that too. New to the area and looking to make friends? Yup, there's an app for that. Regardless of what you need help with, there's an app for it. I mean, is there anything our phones can't do?
Finding the apps is the tricky part. You don't know what you don't know. And filtering through the most downloaded apps list is a daunting task. To help you out, we've compiled a list of the nine most life-changing apps to make life infinitely easier.
Bumble
For Help With Dating
Modern dating apps can get kind of a bad rap for being, well, loose – shall we say? If you're looking for something serious, Bumble is a great tool! Gather your best pick-up lines, set your ideal age/gender and the app will pull up all the eligible matches in a set radius from your location.
What's different about this dating app is that once you match, the girl has to be the first one to message and she only has a 24-hour window to do it. So for all you dudes that are tired of sliding into DMs, and all you girls that are over getting those "send me pics" messages – this dating app is for you.
Wish
For Help With Shopping
If you've ever shopped at a discount store and compared the prices to brand name items then you know just how much companies upcharge. Honestly, it's stupid how much extra you pay just for a name. Thankfully, apps like Wish make style much, much less expensive. How – you ask? They sell products straight from the manufacturer. With Wish, you get high-quality items for 60-90% off their retail price.
Skeptical? I was too. Until I saw that they have easy refunds and free returns. If you don't like what you bought, just send it back.
Habitica
For Help With Organization
To-do lists can be a bore, especially when they're filled with redundant tasks like take out the trash; pay the bills; organize email inbox; do laundry. Habitica turns your chores into a game. Use the app to create a task list and level up as you check things off. The better you do in real life, the better your character does in the game. Plus you can even play against friends. Who doesn't love a little healthy competition?
Meetup
For Help With Making Friends
Why is it so hard to make friends as adults? If I had to guess, it's because – outside of work – it's hard to meet people that are into the same things as you. Meetup makes this easier. It's like school clubs, but for adults. The app allows you to choose from one of 24 categories (including food & drink, running, moms, dads, writing, networking, beliefs, etc.) and attend events in your area. Better yet, you can even RSVP right from the app! Meetup is the single best way to connect with like-minded people in your area.
MyFitnessPal
For Help With Getting Healthy
As anyone who has tried to get fit knows, diet is the hardest part. Who knew that the burger you ate for lunch had 850 calories? MyFitnessPal takes the guessing out of how much you're eating. Use the app to set goals, track your meals and water intake, count your calories, and add calories burned. To add food to a meal, you can use the search or scan the packaging. How much easier could it get?
Moment – Balance Screen Time
For Help With Work/Life Balance
It's hard to unglue yourself from your phone when you have a constant stream of voicemails, text messages, and emails to respond to. Moment helps you track how much time you spend on each app and offers effective coaching for phone detoxing. In short, the app helps you create balanced screen time so you spend more time living and less time working outside of work.
Mint
For Help With Budgeting/Saving Money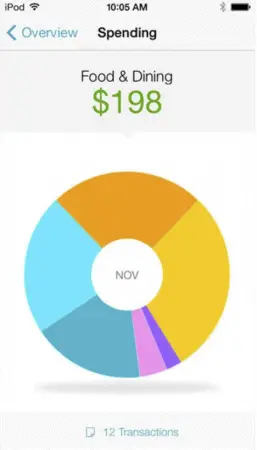 Mindlessly swiping your card and spending money you don't always have is easy. Budgeting is not. The Mint app takes the headache out of maintaining your budget, tracking your spending, and remembering to pay bills. Add your bank account, credit card, and investments so you can see everything in one place. Mint's seamless design and intuitive features make money management simpler than ever.
Sleep Cycle Alarm Clock
For Help With Getting Better Sleep
Have you ever been jolted awake by your alarm clock, heart pounding, groggily looking around trying to figure out where you are? Same. Sleep Cycle Alarm Clock makes sure this doesn't ever happen again. The app's technology tracks your sleep phases throughout the night and wakes you up when you're in light sleep. In the morning, you can analyze your sleep cycles and take notes on how to improve the quality of your sleep.
Talkspace
For Help With Mental Health
Have trouble verbalizing your feelings but want to work through them? Download Talkspace and get matched with one of 4,ooo therapists. Send unlimited texts, audio, video, or picture messages to your therapist and get a reply within 24hours. Downloading the app is free, but the service itself is $49.99/week. An in-person appointment ranges around $150/appointment so this isn't a bad deal!
With all the time you'll save from using these nine apps that make life easier, you'll have more time to check out these 10 best apps like Pinterest to find and share things you love!