One of the most frequent frustrations that I read from Tinder users is that they can only ever use it on their phones (a closer runner up being the app's persistent bedsharing with Facebook, every pun intended.) Unbeknownst to many Tinder users, we actually have a tried and true (and legal!) method of getting Tinder for Mac or Windows PC with minimal fuss and minimal third-party software involvement. If you've been itching to "swipe left" on a more comfortable screen than your smartphone can give you, read on for the details!
Let's all give a warm round of applause to Tinder, for being the final straw that broke the camel's back. Any popular disdain for online dating or hookup culture can now fade quietly into the night now that Tinder has become a mainstream social entity, even if it doesn't always work. Thinking back to the first days of eHarmony, social media, and online dating, I can remember all of the scorn that would come as a result of saying that you were a couple that met online. All of the doubt, the suspicion, and the anticipation that it just wouldn't work.
We can debunk all of the crap, finally, and admit that online dating is just another extension by which we can connect to fellow human beings, even in the most intimate of pursuits. It has worked, it is working, and it will continue to work as our messaging and social media methods evolve along with our technology. So, thank you, Tinder. You're not the only service I'm clapping for, but you're among them.
However, that doesn't mean that the service doesn't come without some accompanying frustrations, as mentioned above. Unlike many other online dating services, Tinder is still isolated relatively exclusively to smartphones. If it's not happening in your pocket, then the common perception is that it's just not happening.
The unhappy fact is that the truth is half-right. There is no native version of Tinder for Macs or PCs, and based on the current trends and outlook, there isn't one in development on the horizon. It's always worthwhile to request it from the Tinder developers, but as of right now, there's no reason to get one's hopes up. However, if you're willing to jump through a couple of easy hoops, we can bridge your smartphone experience with your desktop computer with relative ease.
The answer is in emulation; Android emulation, to be specific. I know, I know, that may seem like heresy to even whisper in the presence of dedicated Mac users, but it's a tried and tested fact that iOS emulation is far more of a pain than it's worth. Thus, we're left with emulating Google's excellent Android OS. Don't fret, though–it's going to give you a pretty excellent Tinder experience on your Mac, in lieu of having a native version of the popular dating app.
Emulating Tinder
If you're new to the emulation scene, it works like this–your computer uses a portion of its resources to simulate a virtual environment that works like another operating system altogether. In this case, it's going to be Google's Android OS for mobile devices, but people have popularly used it to emulate old video game consoles and other out-of-reach systems that they might not otherwise have access to.
The word "emulator" often comes along with a certain stigma, usually related to the ambiguous legality of the process. This is pretty understandable since emulation can often fall on the wrong side of digital copyright and piracy laws. While video game emulators may well be legal, the games that you download to play on them are almost always pirated in some way or another. Rest assured that Appamatix doesn't condone illegal activity online, and so we wouldn't push you in the wrong direction. Android emulation is legal and legitimate, and the version of Tinder that we run on your Mac will be, too.
Finding a Good Emulator
The first thing that you're going to have to do–before thinking about accessing Tinder–is to find a decent emulator that you can download and use, ideally without any cost for yourself. Most of the time, you get what you're willing to pay for with computer software, but in this case of emulation, you can find some pretty great programs that are free to download and use. We have several recommendations below that ought to suit your fancy one way or another, but even a cursory search on Google will turn up several more. Don't spend too long picking and choosing, however–the reason that we're here is Tinder, and your emulator is just the means by which you're going to access it.
Bluestacks is our first recommendation, and as far as Android emulation goes, it seems to be the internet's golden child. This is by no means undeserved–it's a great piece of software that will tackle any Android application you throw its way. It markets primarily to Android gamers, but the actual interface feels very much like an actual mobile device. It's free to download and use, but after the trial expires, you'll have to either tolerate some third-party software advertising or pay up a $2/month subscription fee for "premium" features.
Andyroid is a less popular emulator than Bluestacks but don't let that fool you. It's no less capable, and in several ways, more accessible. Featuring a minimalistic design and a system tray that lets you change features without booting up the entire emulator, it's fairly handy too. Andy is free to download and free to use.
Manymo is the odd duck of the bunch, but I always include it on a list of recommended Android emulators due to the niche it fills. Rather than being software you need to download and install, Manymo is a browser based program that does all of your emulation without any installation necessary. There are two caveats–you'll need to pay a $9/month subscription fee if you want to use it more than 10 times per month, and you'll need to have the .apk (application) files on hand for any apps that you want to emulate. Barring those two barriers, this is an extremely capable little emulator that works great when you're not free to install any software you like on your Mac.
Any of the above three choices will work find, and more importantly, they all work fine on Mac computers. This can be a bit of a rare quality when it comes to finding compatible software, so download and install the one that suits you best, and let's get to Tinder swiping!
Downloading Tinder
There's one final step you're going to have to go out of your way to do before you can access Tinder through your emulator; you have to create a Google account in order to access the Google Play app store. This can easily be done just by nabbing a free Gmail account online.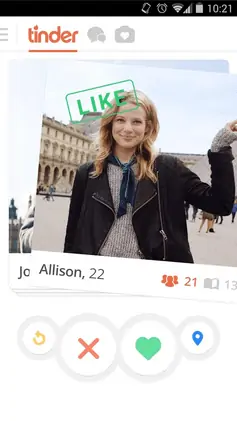 Once that's done, go ahead and boot up your new emulation software, and click on the Google Play store. Search for "Tinder," and you should find the app you're looking for amongst the first results of your search. Treat it just like you would on a smartphone–click it, download it, install it, and if you already have a Tinder account from your own mobile device, enter your login information. Congratulations! You're ready to rock 'n roll on Tinder, from the comfort of your Mac computer.
Since this isn't a modified version of Tinder, you'll have access to all of the same features that you would when normally using the app on a smartphone. Here are just a few more morsels of advice that will help you to have a better time with Tinder on Mac:
Tinder is meant to be a smartphone app, which means that it's always active, and intentionally designed to be at your fingertips. Therefore, I recommend letting your smartphone remain the hub for all of your Tinder activity.
You'll still need an active Facebook account in order to use Tinder. You cannot change this fact; sorry skeptics!
Since Tinder isn't meant to run natively on your computer, you may experience some distorted visuals from the varied resolution between smartphone screen and computer monitor. This is normal, and you should carry on with your Tinder-swiping in spite of it!
Follow our above guide and these handy tips, and you're set up to have a fruitful experience downloading and using the Tinder app through your emulator. Who knows? You might even get hooked on the experience enough to try emulating other mobile apps available on the Google Play store. Remember–as long as you're downloading these apps through Google Play, you're absolutely accessing them through official channels!
Downloading and using Tinder on your Mac is a cinch, and as we've proven, it can be done just as free from cost as you'd experience on a smartphone. If you have any lingering questions, use the comments section below to ask them! If you've found our guide to be a life-saver, do us a favor and share it on Facebook and Twitter!