Sometimes, we just need a little bit of a laugh, and for that, we need to use apps similar to iFunny. These are apps which don't have a lot of bells and whistles. They are simplistic and allow you to laugh at memes, watch funny videos, and maybe interact with some creators.
That's it. You don't need to worry about someone becoming "famous" on the app or younger generations infiltrating it.
There are plenty of apps like iFunny for adults: the kind of apps where you can spend a few minutes to reward yourself for a job well done, a finished workout, or just to kill some time.
10 Apps Like iFunny
When looking for apps like iFunny for Android, we sought apps which had different content—not the same thing used over and over again. These apps get new content on a regular basis, have some great features to share with friends (even those who don't have the app), and won't bloat your phone.
Here are our top choices:
1 – Best Vines
Limited content, but you can find your old favorites.
There isn't a day that goes by where we don't miss Vine. With the Best Vines app, you can watch, vote, and share some of the best Vines of all time. While it doesn't replace Vine, it does make its absence a bit better. You cannot upload content, but they are constantly adding new material. If you spend hours on it, however, you will run out of content.
2 – The Useless Web
A simple way to kill time.
The Useless Web highlights exactly that: everything that is pointless online. You will click a button and go to see some truly interesting websites. Often, they are so stupid, they are funny. This is a barebones app which doesn't require any personal information. All you need to do is enable a connection to your choice of internet browser.
3 – Memedroid
Great for sharing with friends.
Memedroid is a fun app from which you can get some really great content. Developed by Novagecko, it was made with adults in mind. The humor is elevated and sometimes even a little naughty. It has a focus on puns and memes, but there are other types of humor as well.
If you have friends you love to share content with, this is a great app to do that. The sharing features work extremely well.
4 – 9GAG
Crowd-sourced app for all the memes you can handle.
Users generate the content on 9GAG, so you get new and interesting content all the time. It has millions of users every day. Some will just peruse while others create some of the funniest content you can get online.
This one also has a message-board portion where you can discuss literally anything. Want to talk about that new Taylor Swift song? The new Smosh video? Politics? Anime? With so many followers, you will find your people.
5 – Funny or Die
Get funny content from some of your favorite stars.
Funny or Die is a great app for Android and iOS which has been around for some time. However, it seems like people have forgotten about it. Funny or Die has exclusive content from in-house writers and some Hollywood favorites, including James Franco and Judd Apatow. You will get to know the writers as you watch, so you will be able to figure out which videos to watch and which ones to avoid.
On top of these videos, it also has a ton of funny videos, images, articles, and gifs to keep you entertained for short amounts of time.
6 – theCHIVE
One of the most popular apps like iFunny.
theCHIVE isn't as popular as it used to be, but it is funnier than ever. This app makes it easy to find the funniest photos, gifs, and videos on the internet. It has been known to start many, many internet trends over the last decade or so.
There are still 30 million people all over the world using theCHIVE, and with more than 800 million new pieces of content each month, you will never run out of content. You can even create your own content as save it.
7 – Funny Pics
Carefully curated to be funny.
Funny Pics is another free app like iFunny which was made for people who want to enjoy the freshest content. They curate everything on their app so they won't have a huge library. Instead, they have 150,000 pictures of some of the funniest things on the internet. You can even submit your own photo. There have been quite a few submitted photos which have gone viral.
8 – LOL Pics
Filter your favorites to curate your own timeline.
LOL Pics is a great app with some of the funniest jokes, gifs, and memes you can find on your phone. It has an enormous library of content you can then easily share. It curates its material from other social media websites, including Twitter, Tumblr, Instagram, and Facebook.
It isn't just funny material. You can find interesting facts, historical lore, artwork, and more. There are 20 different categories you can subscribe to so you only see what you want to see. If you don't want something, you can unsubscribe from it and it will go away.
9 – Wishbone
Best option for groups of friends.
Wishbone is another social media platform with a focus on entertainment. While not all of the content is funny, it is interesting. You can tailor your needs to make the content you receive funnier. Every day, you have to answer questions to see how you fare against other users. I suspect they also use this to curate content to send your way, so be honest in your answers.
The more people you get to join with you, the better this app will be.
10 – StumbleUpon
Find funny content and more with this refurbished app.
StumbleUpon is one of those online applications you probably used years ago to find content. Now, there is an app with which you can find videos, photos, and webpages. Not everything you find will be funny, but a lot of it is quite humorous. You can put your search into the search bar and find only funny stuff, or you can find something truly random.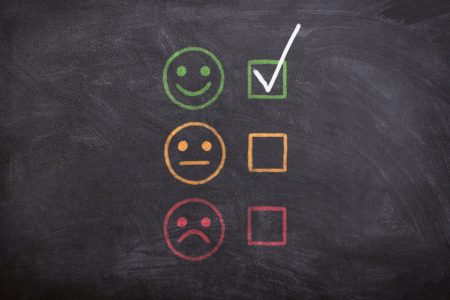 If you just need a little bit of a laugh on your break or you need something to scroll through while you are waiting for the train, these are some of your best options. They are light, easy to use, don't require you to give away a ton of private information, and have content that is instantly sharable.
If you are looking to find memes and jokes before they end up on Twitter or Tumblr, these are the first places you should look. Get ahead of the curve!