Shortly after the BB-8 was introduced to us in the earliest teaser trailers for Star Wars, Episode VII: The Force Awakens, there was a minor marketing coup when a toy robot of the character was released. The big thing about the toy was that it could be controlled via an app on your smart phone. Out of nowhere, there was an instant sensation, and immediately the BB-8 app controlled toys joined the ranks of the Tickle Me Elmo, the Pet Rock, and the Polio Vaccine as the hot toy to have this Christmas.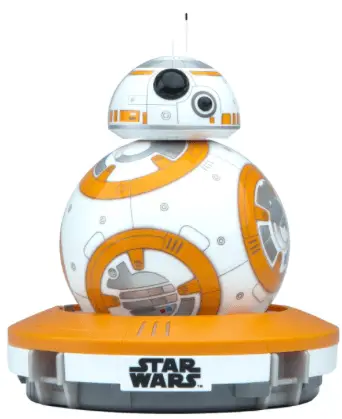 Of course, all the app controlled toy BB-8 really did was make more people aware that app-controlled toys are a thing. But indeed they are. And since we here at Appamatix do enjoy the occasional game and toy, we are going to share with you some of our favorites.
Every kid has a toy that they believe is their best friend, that they believe communicates with them, and they imagine it being alive, their toy horse or car or whatever it is. Stop-motion is the only medium where we literally can make a toy come to life, an actual object. — Henry Selick
10 Best App Controlled Toys for Android & iPhone
So what's the big deal with app controlled toys? Really, it's nothing all that new. It's just an extension of RC (radio controlled) race cars and helicopters that have been popular ever since the right technology and the right price point allowed. But the attraction for the app controlled toy as a continuation of this past time makes a lot of sense. After all, everything we have today has a remote.
I'm just looking at my entertainment system right now, and I see a TV, a sound bar, an Apple TV, an Amazon Fire Stick, a Blu-Ray player, and a Direct TV box. That's six devices, each with their own remotes just waiting to be lost, misplaced, have the batteries worn down, to be stepped on and broken in the middle of the night… and that's just one room's worth of devices.
So, as much as our kids (or, let's be honest—it's not just the kids) enjoy the experience of racing cars around the house or making a toy helicopter really fly, the idea of having another remote in the house just gives me the screaming heebie jeebies.
Meanwhile, in the last decade, we've made leaps and bounds in turning our cellular phones, which had once been just utilitarian devices (okay okay, they were status symbols, too) into devices that can answer more and more varied purposes. My cell phone takes pictures, gives me directions, helps me translate from foreign languages, let's me play a variety of games… of course, it's not a far cry from that to have it replace such frippery as an RC remote.
From a development standpoint, app controlled toys make good sense as well. After all, if you're a toy producer, then suddenly you can save yourself the expense of designing and manufacturing remote after remote after remote. Bluetooth is already there in the phone. As people are learning more and more ways to take advantage of bluetooth functionality, after a point it becomes ridiculous not to take advantage of that, instead of building something from scratch.
But enough of that nonsense. You're here for some completely different nonsense…
#1 Sphero 2.0: The App-Enabled Robotic Ball
Let's go ahead and start with the obvious one. (Well, since we covered BB-8 in the intro, we've already done the obvious one, so I guess this is the obvious one after that). The Sphero 2.0 (currently $129.99 on Amazon) uses the same technology as the famous BB-8 toy. That's because the Sphero is not only the same group that released the app enabled BB-8 toy, but the company behind it actually consulted on the technology for realizing BB-8 as a practical effect. What's more when the teaser first came out one enterprising fan hacked his Sphero to make a homespun BB-8 (this was when people were still debating as to whether the spherical droid's movement was even physically possible, or if it was just CGI).
There are, of course, differences between this one and the BB-8 toy. Sure, the BB-8 toy is skinned to look like the lovable droid from the movie, and has the magnetic addition of the droid's head, but there are some additional functions that aren't available through the Star Wars tie-in. The Sphero changes color through a system of internal lights (oh yeah, it lights up as well). Also, there are numerous apps available for it. Some of these apps are educational apps, using the Sphero to incentivize a child's learning. Other apps, though, are augmented reality games, using the phone's camera to turn your living space into the field of play, such as The Rolling Dead, which allows you to use your Sphero to fight miniature zombies hiding around your house.
#2 Parrot AR.Drone 2.0 Quadricopter (iOS, Android)
When it comes to app controlled toys, there's a lot of repetition. There are numerous drones and quadricopters I could cover (as there are numerous helicopters, cars, etc…) but this one is an interesting midpoint as far as hobby quads go. At $304.53 on Amazon, it's not exactly a starter kit, but it's also not one of those two-thousand dollar deals that only the most serious of enthusiasts would want to use. If you've been playing around with smaller RC fliers and are considering stepping up your game, this is a good midpoint. It's got a good camera on it, and the controls are pretty intuitive — they take advantage of your device's accelerometer to allow you to pilot the drone by tilting rather than giving you a ridiculous UI which is clearly just a last-minute substitution for a physical remote. Worth a look.
#3 Anki Overdrive (iOS, Android)
Earlier, I said that app controlled toys are mainly an extension of the old RC toys, and nowhere is that more in evidence than it is here. Anki's line of app controlled toy cars (and special tracks, which can be reconfigured to 8 different set-ups, just with the basic set) will really bring you back to the old Hot Wheels and Matchbox racing and stunt kits of old.
This one deserves special mention because, whereas most of the entries on this list are meant to be enjoyed by only one person at a time, with the Anki Overdrive kit, you can have two people race against each other. Of course, one of the big drawbacks on the old racing tracks was that you needed two people to play. But with the free Anki Overdrive app, you can go head to head against an AI opponent. And to me that's just cool in a way that going against AI in video games can't approach — because there's a physical race track here. It's not just a computer making up numbers against itself, there is a physical component that can't be overlooked.
It also seems (and correct me if I'm wrong on this) that like video racing games, your car is upgradeable — and not just in the sense of "hey, you can buy a better car!", but in app you can upgrade you car's performance, handling, speed… sure, you're not really changing anything physically on the car, but it does add a layer of strategy to the race — instead of you and your opponent (whether AI or tangible) just speeding identical cars around a featureless track (though that can be fun, too), there's also the strategy of deciding beforehand how best to configure your cars for each race.
The base kit of this is $146.01 on Amazon, but there are numerous ways to expand and customize, such as buying new cars and new track segments.
#4 Aquabotix Hydroview Submarine
Alright, I was really on the fence about whether I wanted to include this or not, because on the one hand, it costs $5395 on Amazon (no, there is not a missing decimal point). So, if you're looking for some hobby equipment to help you bond with your nephew, then this ain't it. On the other hand, it's really awesome. You can see which concern won in my mind.
Yes, it's a submarine. With a camera. And it looks really cool. You can control it from an iPad, but there's a separate floating box that is the real brains of the device. That makes sense, though, because at greater depths, the water is going to mess up your reception to the submarine, but the floating box (connected to the submarine by a cable) will always be in range. Also, if the batteries run down, it's nice to be able to just fish it out with the cable (it comes with a 75 foot cable, but you can get longer ones for deeper dives) rather than having to dive yourself (or drain your pool) to get to it.
Of course, at this price point, it's not exactly a bath toy, and probably shouldn't be included on a list of app controlled toys, but one of the Amazon reviewers (who inspects water tanks for a living) points out that it's invaluable to professionals with a real call to send an HD camera underwater. Yeah, that's not most of us at all. But it still looks really cool.
#5 Romo: Your Robot Friend (iOS)
For the most part, I've been trying to get some really off the beaten path things out there, as opposed to filling out this list of app controlled toys entirely with cars and helicopters. And here is something that looks incredibly off the beaten path, as Romotive, the Kickstarter startup, seeks to give us a robot as it is defined by the Syrius Cybernetics Corporation: "Your Plastic Pal Who's Fun to Be With!" You download the app, plug your device into your Romo, and now you have a little robot friend who will talk to you and follow you around.
You can even control it directly using another iOS device. That bit starts to sound excessive: "Oh, I'm using my iPhone to control this toy used by my other iPhone…" Of course, you could use the later generations if iPod touch on your Romo. You can even set it up so that friends from all over the world can control the Romo remotely and talk to you through it. So, I guess it's great for a Skype date (or whatever Skype alternatives you favor) while you're trying to cook dinner or clean up the house.
There's a lot of potential for interaction with this one, and at $169.95 at the Apple Store (the version I could find on Amazon was an older one, based on the 30-pin devices as opposed to the newer connecters Apple favors this week) it's not as insanely prohibitive as some of the others that are out there.
Well, that list is a good start, but I know there are some things that we've overlooked, because the field is so diverse. So let us know, what are some of your favorite app controlled toys on the market? Or what are you thoughts on the ones we've shared here? Let us know down in the comments!