Online shopping, with apps and sites like Wish and Amazon, have really changed the way we do things. I was out for my daily walk and passed the neighbor with the dog whom I refer to as "the loneliest puppy." I call him this because there is a gaggle of children in that house, but not a one of them plays with that dog. Don't get me wrong, he's a well-kept dog; well-fed, taken care of, just under-stimulated. So I always pet him and run up and down the length of the fence with him. Where the heck is this going? Well, as I was saying, I was passing their house and I noticed a small Amazon package. "Big deal," you say? Yeah, it kind of is. Because this is our norm now — we shop online.
In 2015, it was predicted (and lo, came to pass) that online shopping would exceed that of in-person, brick and mortar interactions during the holiday season. Online shopping has been on a sharp upward trajectory for a few years now, so this comes as no surprise. And as with all things nowadays, there are apps devoted to online shopping. But you knew that, of course. One such app is Wish, which was named one of Google's Best Android Apps of 2014. But, we are now in 2016. And you are here because you are ready for some alternatives. We're all about giving you alternatives, just as we have listed some great alternatives for Skype and, more recently, Evernote. Allow me to present Appamatix's 5 Apps Like Wish for Shopping Online.
When people come to my act any time after Thanksgiving, I usually say, You shouldn't be here. You should be shopping. Our economy depends on you! You should be out there buying stuff.' — Lewis Black
5 Apps Like Wish for Shopping Online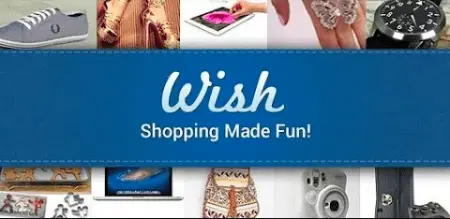 For those not familiar with the shopping app Wish, let's take a hot minute to introduce you to said app because it may be all that you ever *wished* for… eh? See what I did there? I'm clever. You may have seen an ad for Wish pop up on your Facebook and wondered about it. Well, we're here to shed some light on Wish.
Wish is one of the top shopping apps in Europe and North America. The San Francisco -based Wish sells all the stuff that you never knew you needed, and a majority of it coming directly from China. Founded in 2011, Wish was founded by Peter Szulczewski and Danny Zhang, both former Yahoo, Inc. engineers and the company boasts over 400 employees. There are over 100 million accounts registered (free accounts, at that) and over 100,000 vendors.
Wish has been described as an "online bazaar" and shopping mall, but with prices that one is more likely to find at a Dollar Store. We're talking really huge discounts, bearing in mind that there's not really a way of knowing the value of the merchandise. (I mean, you can say that that poncho is worth $1114 and sell it to me for $27 and I may be none the wiser, but that's a moot point — Wish says their vendors are free to make whatever claims they please about their offerings, so buyers choose whom to trust). Pretty much all of Wish's offerings are unbranded and while there's not much by way of knock -offs, there certainly is some cool and hip merch that looks a lot like stuff you may have seen before; but ya know, hundreds of dollars less. Wish has even branched out and released two new apps, Mama and Geek, targeting more specific consumers. (Through Mama, you can get home goods and children's accessories, and through Geek you can get a variety of gadgets.) But if you couldn't guess what clientele those were respectively, a hamster is crying somewhere. (And your guess is as good as mine as to what that means).
And I say, if you don't need the brand name plastered on you, go for it! Too good to be true, you say? Well, yeah. Here's Wish's biggest drawback: shipping. Wish is a bit like Ebay in that the sellers deal with shipping directly. There's nothing like the Prime certification you get through Amazon, letting you know that this is going to come from Amazon directly. And without that overarching regulation, there have been some spotty results on the shipping front. Users have reportedly waited anywhere from 3 weeks to a couple of months for items to ship from China. So be forewarned: you may be paying six bucks for a tee shirt, but you may not get it for a little while; don't go in expecting Amazon -style two-day crazy fast shipping.
So, that's Wish in a nutshell. But hold the phone (does that saying still have the same impact it used to? Aren't we almost always holding the phone?). Wish has been around since 2011, but let's be real, it's 2016. And if you have tried Wish and found it leaving you wishing for more (the puns seriously just write themselves), we have some other shopping apps you might enjoy giving a whirl. Or even if you haven't had any real problems with Wish, it's always good to be able to have a variety of markets to deal with. That way, if you can't find something you like on one service, you can always mosey over to another. Just blow out the candles and make a wish.
To sign up for a free Wish account, click here. You can use an email, or Facebook or Google+ for a more tailored shopping experience. To get Wish for your device (iOS, Android, Windows and Amazon) click here. And you can read more about Wish and its future prospects here.
Wanelo Shopping
Wanelo's motto is "Want. Need. Love." from which it derives its name. Another virtual shopping mall springing up from San Francisco in 2012, Wanelo boasts over 300,000 stores and carries name brand merchandise, unlike Wish. So, if you've been researching exactly what slide rule you want to plunk your money down, and don't want to roll the dice on something that is almost like what you've researched, this may be something you may want to consider in place of Wish.
What makes Wanelo different from other purchasing apps and sites is just how public you can make your purchasing and selling. Wanelo shoppers can post what they buy and other shoppers can buy according to what's trending. Wanelo is a bit like Pinterest that way. Wanelo carries high end as well as low end, everything from Nordstrom to Etsy. And the user is the promoter, essentially. Say you've found a BlueTooth keyboard you really like, and it's not one of the really well-known brands. Well, you can essentially get it a little more coverage. It's a great way to support the brands and merchants you like. In addition to, you know, giving them your money.
Wanelo is free to use. So, to give Wanelo Shopping a whirl, click here. For iOS, click here. For Android, click here.
Zulily
With some shopping sites, stability is the name of the game. You want to be able to log in and just know that that specific umbrella you're looking for will be available for a set price. Zulily, on the other hand, is all about the thrill of catching a sale. Zulily thrives on what's new on a daily basis. With new sales and products appearing every morning, shoppers get the latest every day. And Zulily, more than many shopping apps and sites, works hard to incorporate the social media. Shoppers are encouraged to share their purchases via Facebook, Twitter, Instagram, and Pinterest and to stay connected with Zulily through these platforms. This is understandable, of course; not only does this ensure that you get the latest updates on their sales and new promotions, but it also gets you helping out in the publication for the site, as Zulily can take advantage of your social media followership.
Zulily is free. To sign up for Zulily, click here. For mobile apps (iPhone & iPad, and Android), click here.
Fab.com
Like Zulily, you have probably heard of Fab.com. They have commercials and the website has been a staple for online shopping for a few years. And I gotta say, Fab.com has a pretty freaking fabulous blog, complete with Pinning power. Fab.com has had some problems financially in the past, however, so be forewarned. After going thru some downsizing in 2013, the company has struggled. That doesn't mean you won't find a good deal on some interesting stuff when you shop, though.
Sign up for Fab.com here. And to download the mobile app, click here.
AliExpress
AliExpress is part of AliBaba, the Chinese answer to Amazon. With AliExpress, you are, like with Wish, buying directly from China. AliExpress is worth a mention simply for its free shipping on loads (but not all) of its products. AliExpress's interface is user friendly and they offer a wide variety of products. Their website offers the site in 5 languages other than English and ships to over 200 countries.
Click here to peruse the website. Click here for the AliExpress Shopping App.
Keep Shopping
Keep Shopping encourages you to do exactly that. Toted as the first app of it's kind, whatever vendors you buy from, you purchase everything from Keep's OneCart.
Visit Keep's website here. And download the app here.
These are only a handful of the great shopping apps that are out there, and I know we've only managed to scratch the surface. If there's anything that you use as a go to shopping app that you haven't seen listed here, please let us know about it in the comments, and we may mention it the next time we come around to this topic.