Where do you go to find anything and everything you might ever think to buy online? If you're like most online shoppers, the first place you think of is Amazon. And why not? It is the largest online retailer on the face of the earth. It brings us everything from books to air conditioners to streaming video rentals. Yet, there are other online stores with similar business models that are doing a brisk business. They have loyal customers who go to them first. Though smaller in number, those customers must have found something at the other sites to keep them coming back. That's what we'll discover as we look at 10 Sites Like Amazon: Amazon Alternative for online shopping.
Amazon's story is well known. Starting out as a bookseller when the Internet was still young, Amazon first branched out to selling DVDs and CDs. Then came software and electronics, toys and games, furniture and clothing, beauty products and household cleaners, phone apps and cloud services, and on and on and on until we struggle to name something Amazon does not sell.
As wonderful as Amazon is, and as well as it meets most of our online shopping needs, Amazon has a couple of shortcomings that not everyone notices:
The site offers many ways to pay, but does not accept PayPal.
The minimum order amount for free shipping was recently raised to $49.
All returns are not free and easy.
The fastest Amazon can get a product to most of us is overnight.
People go to Amazon first to find the lowest prices and items always in stock to ship quickly. It soon becomes a habit: Need something? Call up the Amazon site, search, and buy. There was a time when that made sense, but now competitors are finding ways to meet or beat Amazon's low prices.
Amazon was also a first choice for us because its Prime membership assured free two-day shipping that always arrived in two days. Last year's Christmas season shipping debacle left a sour taste in many customers' mouths. Doesn't matter whose fault it was, the store or the delivery company, Amazon made the promise and didn't find a way to keep it.
Those incidents stay with us. Amazon dropped the ball on me about ten years ago with a non-holiday rush period birthday gift. I have not yet trusted them again with something I need on time and for sure. I find an alternative locally, often an online site that ships within hours to a local store.
Maybe Amazon is losing some of its shine for you, too, and you're starting to look for other online retailers for one thing or another. Let's look at ten of those sites today. All of the ten alternatives to Amazon have an app that you can download to your smartphone for easy, on-the-go shopping. Those with brick-and-mortar stores offer free shipping (usually within an hour or two) and returns to a local store, a significant advantage over Amazon and other online-only sites.
eBay
First gaining fame and market share as an online auction for people's used junk, eBay has moved far beyond its original format. Sellers offer brand new items in practically all categories: clothing, groceries, pet supplies, cleaning supplies, novelty gifts, furniture, bedding, and more are offered brand-spanking new and still in the original packaging from reputable retailers and resellers.
Also, eBay is no longer just an auction site. In 2003, more than 90% of its product offerings and revenue came from sales through auction listings. By 2012, less than 20% of its listings and only about 40% of its revenue came from auctions. The bulk of eBay sales now come through a format called "Buy It Now." This makes it much like Amazon: Need something? Call up the eBay site, search, and buy. It's that simple.
There is no free shipping minimum on eBay as shipping is determined by each seller; however, it is a positive change to see more and more sellers offer free shipping in an effort to more honestly reflect the total price of the item at first sight. Virtually all vendors on eBay accept PayPal; some accept no other form of payment.
Dealing with a vendor you do not know on a site like eBay used to be overwhelming, but eBay has made it safer for buyers with its  buyer protection guarantees.
Jet.com
A fairly new entry to the online marketplace, Jet.com launched in July 2015 to give customers the opportunity to choose value over shipping gimmicks. The site uses a pricing algorithm to update the prices on items almost continually. When you leave your shopping cart and return a couple hours or days later, the prices will probably be different.
Jet.com also offers additional savings when you order a greater number of items (which gives better efficiency in shipping) and for waiving free returns. The sample here shows a 19 cent savings for waiving the return of a product no one is likely to ever send back, plus that's the best price I've ever seen on a 500-sheet box of Kirkland foil sheets. We keep them in the cupboard all the time as they're quite handy.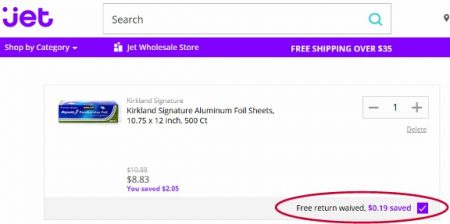 The free shipping threshold at Jet.com is a comparatively low $35, and the site accepts PayPal, though you save an additional percent on your order by using a debit card. Jet also has a partners saving program where you send in your e-receipts (within 14 days) from sites like Lands End, Petsmart, Vistaprint, and AutoZone and receive JetCash to spend at Jet.com. Rebate percentages are as much as 20% of the partner site order total.
Walmart
Everyone knows that Walmart has just about everything and quite often at the lowest price anywhere. At its web site you can order just about anything in its stores except groceries (they have Sam's Club for that). With stores all over the nation (and world), Walmart is able to ship to stores, arrange quick pick up at items already in stock at a local store, and accept returns without cost to the customer at its stores.
If you have an order shipped to your home, the $50 order minimum for free shipping is about the same as Amazon's, but you're less likely to be concerned about meeting that minimum here because most of Walmart's items will ship to a store near you and they have stores nearly everywhere. Walmart accepts PayPal, Walmart cards, and major credit or debit cards.
Rakuten
Type the url, www.buy.com into your browser and where do you end up? Rakuten. Telling visitors to buy from people, not the Internet, Rakuten features products from 5,500 shop owners. Product categories include home goods, books and movies, office supplies, toys and baby items, clothing, computers, electronics, and more.
Rakuten has a customer loyalty program that gives a 1% rebate toward future purchases to members of its Super Points rewards program. On occasion, a special 5% reward is available with a promo code. Members can also earn Reward Super Points for product reviews and for searching for items on their app.
Shipping is determined by item rather than order amount, so some items ship free while others never do. Rakuten accepts PayPal, major credit and debit cards and Bitcoin, among other methods
Overstock.com
Overstock is well known for great prices on clothing, furniture, shoes, jewelry, and similar product lines. I often check here when shopping for gifts to express just the right sentiment as well as for small furnishings for the house, and I've never been disappointed in the quality, customer service, and overall value of anything bought here. Rugs – did I mention rugs? They have a great selection of rugs at really competitive prices.
Free shipping starts when your net order (not including tax or charitable contributions) exceeds $45. Shipping is fast, too, with most orders going out to the customer within a day or two. Overstock accepts PayPal and major credit/debit cards.
Target
Well-known for its broad product line, Target makes almost all of it available to online shoppers. From toys to mixers, televisions to razor blades, you can order it online and have it shipped to your home or pick it up at a store near you. Shop with Target's RED credit or debit card to save 5% on all orders.
Target's free shipping minimum is a low $25 with free shipping on any order when you use your Target RED card. Item not working out for you? You can ship it back for free or take it to a store near you. Target accepts PayPal, RED cards, gift cards, and major credit and debit cards.
Sears Marketplace
You know Sears for hard and soft lines like Craftsman tools and Canyon River jeans, but Sears Marketplace is all that and more, welcoming vendors of all sizes to come under the sears.com banner to offer their goods. The site lets you know in the grid for each item who the seller is, as you can see in this week's electronics deals page.
Sears Marketplace shipping costs vary by seller with free shipping on Sears products for Shop Your Way Max members. The site accepts Sears cards and all major credit or debit cards for payments  for all merchandise purchased from Sears or any of its Marketplace sellers.
Kmart
When Kmart closed our local store, I discovered Kmart online. The site offers a lot of its in-store product lines like electronics and clothing for shipping to your home including some grocery and personal care items. As shown below, if an item cannot be shipped, Kmart shows this on the product page with an offer (in most cases) to make it available for convenient store pick up. The same Shop Your Way Max program from Sears works at Kmart, too, with free two-day shipping for members plus you can apply member points as payment for online orders.
Regular shipping (without SYW Max membership) is free with an order of $35 or more. Payment methods listed include Sears cards, gift cards, and major credit or debit cards.
Best Buy
Many loyal Amazon shoppers make it their first stop for electronics. Why not check out a company that specializes in that product line? Best Buy offers electronics, appliances, computers and most that goes with them in their stores and online. From toasters to televisions and video games to refrigerators, you will find it all here, ready to be shipped to your home or a store near you.
The site offers free shipping on orders of $35 or more, and accepts PayPal, Best Buy cards, major credit or debit cards, Best Buy rewards points, and major credit card reward points for payment online.
Zappos
Other strong product lines for Amazon are clothing, shoes, and accessories, which are the specialty of Zappos. When you want the perfect shoe for the perfect occasion – be it the office, a wedding, or a golf outing – Zappos is sure to have exactly what you need, with a handbag to match. The site also offers a variety of clothing, sunglasses, watches, jewelry and other accessories.
Zappos offers free shipping and returns with no  minimum order. Payment methods accepted are Visa, MasterCard, American Express, and Discover but not PayPal.
Consider More Choices
Amazon has become the world's marketplace, but other retailers haven't shriveled away because of that towering presence. Some, like eBay and Jet.com, take on Amazon directly with vast product choices, low prices, and fast delivery. Others, like Walmart, Kmart, and Target, offer low prices with the convenience of ship-to-store and free in-store returns. Retailers like Zappos and Best Buy continue to focus on what they do best, usually having harder-to-find items. I've shared these 10 Sites Like Amazon: Amazon Alternative retailers so that when you are looking for something you need for yourself or for a special gift, you can do yourself a favor by checking out more than one online marketplace. You may just find what you've been missing.