After Flappy Bird's brief foray into the popular spotlight–after which it disappeared forever–everyone was left wondering what would rise to take its place. Even though it's far from officially similar in any way, Geometry Dash is hugely considered to be a spiritual successor to Flappy Bird, since it features such similar gameplay wrapped up in entirely different art and themes. Today, Appamatix has 10 Geometry Dash secrets, tips, and "hacks" that will help you to get further and further each time you pick up this addictive little game, whether you're a newbie or a hardcore mobile gamer.
If you're saying "what's Geometry Dash?" then head to your mobile device's app store and get to downloading. No joke. No fibbing. Go do it, right now, even if you're not regularly a gamer because this simple title has hooked practically anyone that's picked it up. The graphics are simple and mesmerizing at the same time, and Geometry Dash's awesome score will leave you bobbing your head to the beat each time that you play. It's entrancing, really, in a way that few mobile games manage to be.
Throughout the entire experience, you play as an unassuming little geometric shape bouncing along amidst a harsh world of obstacles and elevated platforms. It's 2D-platforming at its simplest, but also at its finest! You'll be in constant motion from the moment that you start playing, and as long as you keep the music on (more on this, later), it'll provide a steady, thumping rhythm that follows your progress through the game's many stages.
They're difficult, too, so it's understandable that you've found your way to our little guide. Whether you're playing on iOS or Android, the following list of tips and techniques will help you to finish the game with aplomb, and can be used whenever new content is released for Geometry Dash.
About That Music…
Okay, so the first tip that's made it onto our list is a bit of fairly casual advice that might be hit or miss. If you like the Geometry Dash music, get ready–you might not enjoy this.
A great many gamers have said that the thumping, incessant music of Geometry Dash is actually more distracting than it is helpful, even if it was written to be an aid that helps you time your jumps and movements through all of the game's stages.
The answer? Give the music a break, and see if it helps you to be more accurate with your jumps and movements while playing the game. It's hard to know after only an attempt or two, so if you're really struggling with the game, or even just on a particular stage, see if you don't have a better time with the music off.
Practice Makes…Slightly Better!
Geometry Dash comes with a practice mode that allows you to test your mettle against various elements of the gameplay, but it doesn't help one iota with your actual progress. This is by way of the game's design, and it just means that the practice mode is for that, only: practice!
That said, if your fingers aren't the most coordinated on your smartphone's screen, the practice mode in the game will honestly be of huge help to you. Your progress won't be saved, but the ability to restart from checkpoints of your choosing will potentially help you to learn more than you would in the primary game. No more going all the way back to the beginning, when you lose!
Avoid Hacks and Cheats
Here's another one the might be obvious to you, and might not. If you've typed in "Geometry Dash" in any search engine, there's a good chance that your results have been riddled with promises of hacks or cheats Many of these function by offering to "slow down" your gameplay, thereby making the obstacles in each stage easy to dodge.
The truth is, some of these hacks actually work. However, most do not, and on top of that, they're frequently targeted for carrying malware and other malicious things for your computer. Since none of them are authorized in slightest, the risk is entirely upon you if you decided to bite the bullet and try a cheat program.
Replayability is Your Training
One of the core elements of Geometry Dash's gameplay will have you restarting at the beginning each time that you lose. Over a great amount of time, this can start to feel repetitive…to say the least. If you let it go on for too long, it can really start to drag you down to the point where you become tired of the game.
However, it might help to realize that Geometry Dash is an old school game in this way. We've become so accustomed to being able to save our progress, search for checkpoints, and otherwise ensure that we don't have to backtrack that the concept of having to start from the beginning is almost offensive! Even though I'm wary of preaching about how good old school game experiences can be, I think that it works well for Geometry Dash. The game is all about dexterity and rhythm, and getting better as you play it more.
Instead of feeling as if the game is punishing you (it sort of is), look at it as the same sort of old-school "training" that you'd have to go through in an old arcade box, or Super Mario Bros. on ye olde NES.
Don't Pay if You Don't Have To
Like many games on mobile devices, Geometry Dash comes in a "lite" version and a paid version. You'll get access to a hefty number of levels in the lite version, but after a bit of practice and some time spent learning the ropes of the game, you're going to run out of levels to play through.
Here's what I recommend when it comes to titles like this: download the lite version and play the hell out of it! If you're worried about the cost of the full version, use Geometry Dash Lite to determine whether or not it's the game for you, and if it is, pony up and get the full version.
Do not, on the other hand, give in to the many offers for a "free" full release of the game as you'll often see advertised online. If you're using an iOS device, this is impossible in the first place, but if you're using an Android phone, realize that any unauthorized sharing of this game not only qualifies as digital piracy, it also stands a good chance of containing malicious software that can harm your device.
Coins Come Later
As you play Geometry Dash,  you'll definitely begin to notice secret coins that can be picked up during each stage. They only ever seem just out of reach, which can make them a tempting diversion from your main progress through the game.
However, if you're already struggling to clear the game's many levels, then give yourself a break and focus on coins later! These are a bonus. They're icing on the cake. Something that you should pursue once you already have mastery over the rhythm and motion that will allow you to beat a level. It's cool to get them, and you'll feel good after doing so, but focus on one thing at a time.
Learn the stages you're struggling with, then go back and snatch those coins.
Give Yourself a Break, Mate
It probably shouldn't need to be said, but it's important to give yourself a chance to stop playing Geometry Dash from time to time. This is a repetitive rhythm-based game, and it's designed from the ground up to make you frustrated when you get stuck on a certain stage.
The only way to beat that frustration is to either conquer the stage or take a break! Seriously. Put the phone down, get up, and get your mind away from the mounting anger that's going to start looking for an outlet if you keep losing to the same part of the game over, and over, and over. Don't be one of those people that launch their phone against the wall when it gets too aggravating. If you need to, narrow it down to only allowing yourself to play for a certain amount of time before your next break.
It's All in the Physics
One of the things that tend to throw people off quickly in Geometry Dash is the frequency with which you switch gameplay styles. You'll be bouncing around on platforms one moment, and then flying around obstacles on a rocketship next.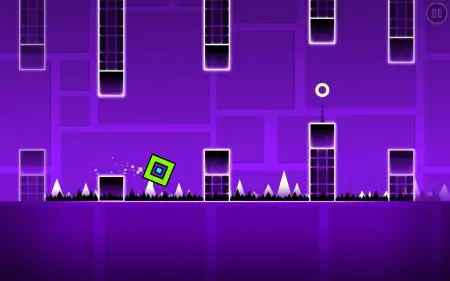 Knowing the ins and outs of each of these types of gameplay will eventually allow you to progress through the game, but starting out, it can put your reflexes to the test. As odd as it may sound, I have a recommendation for how you might cope with this, and it's something that I learned from fighting games!
Instead of focusing on your "character," focus instead on the middle area of your screen. The environment changes constantly as you move through it, but it can prove to be more of a distraction than anything else to watch your little geometry-dude jumping, flipping, and flying around.  Keeping your eyes on a fixed area of the screen will require them to search less for incoming obstacles, and with enough practice, allow you to dodge and move more efficiently.
Finger Off the Trigger
During the platforming portions of Geometry Dash, you can hold down on the screen when jumping over sequential platforms. Your little shape will be  carried swiftly over the series of short platforms that are often highlighted by the game's catchy music, but you'll also learn that this isn't always a good strategy.
Spikes are what force you to change things up, but rather than holding down on the screen until you don't have to, I recommend learning to tap and move with each jump that you have to make, instead. Some of the later levels in Geometry Dash are outright punishing, and the "easy" techniques that you learn when you first start playing the game will help you less and less.
The Level Editor
Remember those breaks that I was talking about, a moment ago? Well, if you don't feel like taking a break from Geometry Dash but you're still getting pissed at a particular level, you can change up your gameplay and try out the level editor! You'll only have access to it if you've bought the full version of the game, but at only $1.99, what's really stopping you?
Hundreds of thousands of player-designed custom levels have already been shared, and it can sometimes feel rejuvenating to spend some time in this creative game mode, yourself. Rather than becoming angrier at the increasing difficulty of the main game's stages, let your mind relax a little as you piece together a creation of your own.
There you have it! If you're excited about Geometry Dash, but think you could use a little boost to up your game to an acceptable level, try following our 10 best tips, tricks, and secrets (no "hacks," sorry!) These can come in handy no matter what part of the game you're stuck on, and you're guaranteed to have a better time with this rockstar of a game when you're not stuck.
Still have questions? Let us know in the comments below, and consider sharing our little guide on Facebook and Twitter!